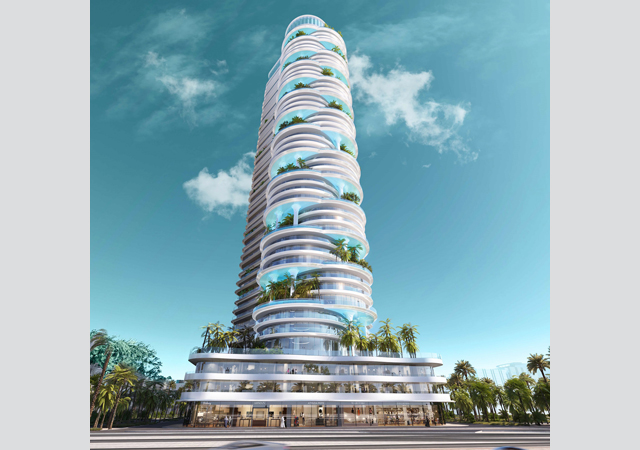 The super luxury units at Damac Casa feature circular outdoor terraces.
Damac Properties, a luxury real estate developer, has unveiled its latest architectural masterpiece, Damac Casa, which reimagines the concept of vertical island living, the developer said.
Located in the Al Sufouh area and with Dubai's iconic Palm as its backdrop, the tower encapsulates the serenity of island living in every facet of its design. Drawing inspiration from the lotus flower, which thrives in aquatic environments, the tower aims to enhance residents' experience with unparalleled water views.
Situated close to Damac's Cavalli Tower, Damac Casa boasts amenities that redefine luxury living. At its heart is the "Flying Island," a breathtaking oasis enveloped by water and its super-luxury units feature circular outdoor terraces, capturing 270-degree water views.
The tower will feature oasis-inspired retreats with the pools transforming into an island oasis surrounded by lush greenery. The Aqua Spa is an aquatic haven, with treatment rooms seemingly floating on water.
Damac Casa is set to introduce one of Dubai's first scuba simulators offering diverse virtual reality experiences, from the Red Sea to the Indian Ocean, or even the wonders of space. The pools will be surrounded by palm gardens.
The tower will offer one-, two-, and three-bedroom luxury apartments, and three-, four- and five-bedroom super-luxury apartments each with its own private lift. Each super-luxury unit boasts its own oasis-vibe pool.
Meanwhile, Damac Properties last month awarded a series of contracts for its landmark developments at Damac Lagoons community and Damac Hills, while flagging off main construction works at its luxury Safa One de Grisogono project.
The luxury real estate developer awarded a contract worth AED1.2 billion ($326.7 million) to Darwish Engineering Emirates for the main works package for 275 villas in the Venice cluster in Damac Lagoons community; two significant contracts valued at AED588 million for its flagship master development, Damac Hills; and the main works package worth AED500 million for the Safa One de Grisogono project.
The master developer has so far awarded contracts close to AED7 billion for the Damac Lagoons master development: more than AED1 billion worth of contracts to date for infrastructure, and over AED5.6 billion worth for villa construction. In the first half of this year alone, Damac awarded contracts worth AED2.4 billion, a testament to the project's steady construction momentum, the company said.
The Damac Hills contracts were awarded to Engineering Construction and Reconstruction Company. The first contract, valued at AED341 million, is for the main works of the Gems Estates cluster, whilethe second contract, worth AED247 million, is designated for the main works as part of Cavalli Estates.
The main works contract for the Safa One de Grisogono project was awarded to United Engineering Construction Company (Unec).