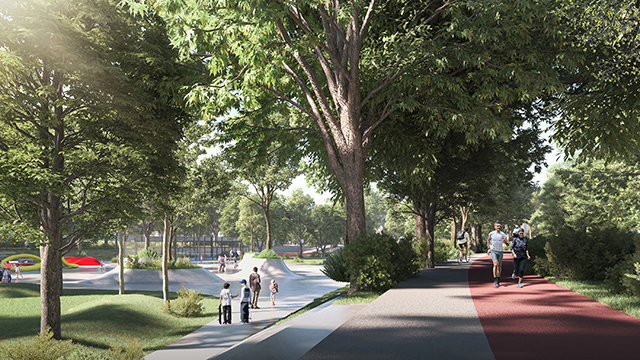 Jouri Hills will offer a a variety of sports facilities.
Arada has awarded two contracts, valued at a total of AED700 million ($190.58 million), to build all 294 luxury homes at the master developer's first project in Dubai, Jouri Hills at Jumeirah Golf Estates.
Now sold out, Jouri Hills is the latest phase in the 40-million-sq-ft Jumeirah Golf Estates masterplan, which is one of the UAE's most high-profile and sought-after communities.
Valued at AED645 million, the main contract to build all units at Jouri Hills was won by Intermass, a UAE-based contractor which has worked extensively with Arada at its two Sharjah megaprojects Aljada and Masaar (see Northern Emirates Page 24). Work will begin immediately and is scheduled to take 21 months to complete, Arada said.
The landscape and infrastructure contract at Jouri Hills was awarded to Proscape, a Dubai-based landscaping specialist that has already worked with Arada on the delivery of the Madar family entertainment district at Aljada megaproject. Valued at AED54 million, the contract aims to complete the infrastructure work in 18 months' time.
Ahmed Alkhoshaibi, Group CEO of Arada, said: "The buyer response to our first Dubai launch has been exceptional, and we're pleased to share that the full Jouri Hills community is now sold out.
"The demand we have seen for this community sets a strong foundation for the launch in the last quarter of our second Dubai project, Armani Beach Residences at Palm Jumeirah, with a third project scheduled for the beginning of 2024."
Homes at Jouri Hills consist of units ranging from three-bedroom townhouses to luxurious six-bedroom mansions, the largest of which spans over 14,000 sq ft. All homes will feature contemporary architecture designed individually to make the most of natural light, with floor-to-ceiling windows and double-height spaces, as well as smart home solutions.
Jouri Hills will also contain a community centre and park, which consists of a number of retail and F&B outlets, in addition to a variety of sports facilities including cycling and running tracks, swimming pools and a fitness centre operated by Wellfit, the rapidly growing gym brand owned by Arada.