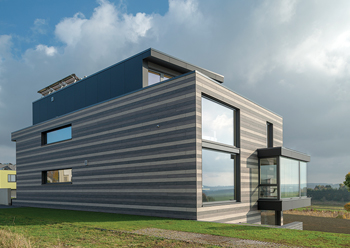 Trespa offers high-performance solutions for cladding and facades.
Al Semsam Building Materials, the exclusive distributor of Trespa in the UAE and a major partner for the brand in all GCC countries, is focusing on delivering striking and high-performance solutions offered by the European company for exterior cladding, decorative façades, and scientific surface solutions in the region.
"Trespa International, a European innovator in the field of architectural materials, is recognised internationally as a premier developer of high-quality panels," said Rafat Al Fahoum, CEO of Al Semsam. "Since its founding in 1960, Trespa has worked closely with architects, designers, installers, distributors, raw material suppliers and end-users globally. With unique insights into key market challenges, trends and demands, Trespa passionately delivers innovative, aesthetically-pleasing and high-performance solutions for a wide range of needs."
Trespa is approved for use by both the Dubai and Abu Dhabi Civil Defence authorities, said Al Semsan, which is a part of the Dubai-based Easa Saleh Al Gurg Building Material Division.
According to Al Fahoum, Trespa has been continuously expanding its portfolio and customer reach. Its recently-launched 'Reimagine' campaign is a brand-new trigger to spark the creativity of architects, designers, installers, and distributors worldwide using its Meteon range of products, which has been expanded with new finishes and colours.
"For contractors and installers, 'Reimagine' focuses on reimagining the relation they have with the brand and the role Trespa plays in simplifying their projects. Focused on practical, direct communication, 'Reimagine' intends to be a platform that changes the conversation and inspires the chosen target groups," said Al Fahoum.
The expanded Meteon portfolio includes four new colours; two Uni Colours, as well as one colour each in the Wood and Lumen range.
The new shade within the Lumen range is Olive Green. The inspiration for this colour was found in the Italian region of Tuscany, where olive orchards take on a rich green colour when the fruit is ready for harvest, he says.
"With the introduction of the new Meteon Lumen décor, Olive Green, we are extending our successful Lumen line. Lumen combines the superior quality of the Meteon range with a strong aesthetic appearance. The Diffuse finish of the Lumen panels, in particular, has been highly appreciated by architects because of its excellent capability to absorb light, creating a nice matt surface," said Al Fahoum.
Trespa continues its focus on product development, combining quality-manufacturing technologies with intelligent solutions for architectural and scientific surface applications.