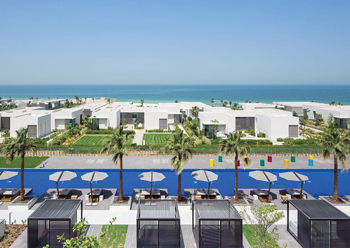 The new luxury beachfront resort at Al Zorah.
Al Zorah Development Company, a joint venture between the Government of Ajman and Solidere International, has selected global hospitality company The Oberoi Group to manage its new luxury beachfront resort.
The new hotel development will enable the expansion of the Al Zorah luxury hospitality experience. Spread over an 828,767-sq-ft area, the new property will boast a total of 174 luxurious guestrooms, and 28 one-bedroom private villas set along the pristine white sandy beach of Al Zorah. It will be The Oberoi Group's second beach resort in Al Zorah.
Al Zorah occupies 5.4 million sq m of lush beachfront and mangrove land.
CEO George Saad said: "Al Zorah Development Company is thrilled to add such a luxury new experience to our portfolio. The Oberoi Group's new resort will further strengthen the positioning of Al Zorah as a luxury hospitality, golf, and wellness destination, and will offer unparalleled service to guests and residents.
"The new resort will increase the portfolio of Al Zorah to include 269 luxury hotel keys and an 18-hole international golf course, with the plan to add unique beachfront development that will include villas, residences, hotel apartments and holiday homes in near future."
Meanwhile, Al Zorah Development Company has unveiled plans for the development of exclusive villas on the beachfront. Designed with families in mind, the development comprises 21 private, ultra- luxurious villas with sea views. Located adjacent to The Oberoi Beach Resort, the community offers a limited number of 5,651-sq-ft villas, spanning 10,000 sq ft.