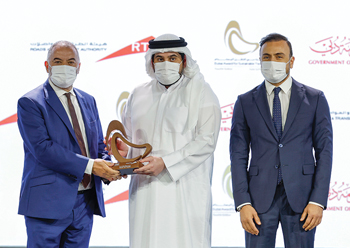 Officials at the award ceremony.
Dubai's Roads and Transport Authority (RTA) has awarded its 'Sustainable Transport Contractor' prize to a joint venture led by Spanish infrastructure major Acciona for the Dubai Metro extension project.
One of the main reasons leading to the prize was the award of LEED (Leadership in Energy and Environmental Design) V4 Gold certification for the seven stations that Acciona and its partners built as part of the project.
It is the highest sustainability grading at world level and recognises good practices carried out to implement resilient and energy-efficient infrastructures. These certifications have made the extension of the Dubai Metro the world's biggest transport project with LEED Gold certification.
The award ceremony took place in Dubai World Trade Centre and the prize was received on behalf of Acciona by its Project Director José Luis Oliván.
The Dubai Metro Route 2020 project involved the construction of a 15-km-long section, including 11.8 km of raised viaduct and a 3.2-km-long tunnel. In total, there are seven stations, including an interchange at Nakheel Harbour & Tower and an emblematic metro station.