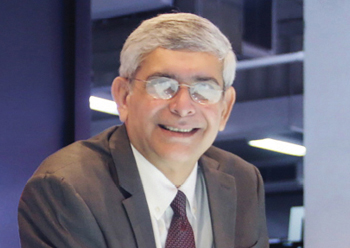 Surty ... promising business prospects.
Having consolidated itself in the Bahrain market over the past four decades, Awal Plastics is looking at broadening its horizons to ensure that it makes optimum use of its production capacity and meet the region's surging demand with fit-for-purpose signage products.
According to Group CEO Ronnie Surty, business prospects for the leading Bahrain-based signage manufacturer are "very promising" as the region is now recovering from the impact of Covid-19.
"There has been a positive trend as most organisations in the region have embarked upon enhancing their corporate identity for which they need quality visual identity which we deliver through our signage products," Surty told Gulf Construction.
This comes at an opportune time for Awal Plastics, which has recently embarked on a major expansion drive that involves new product development and introducing the company's products and services into new geographical locations within the region and through project-based joint ventures across the world and they have also embarked upon turnkey projects.
Surty explained: "The size of the Bahrain market means that our manufacturing capacity is not being fully utilised and hence, to ensure that the factory runs 24 hours, other sales avenues in the region need to be identified where we can add value, by offering quality fit-for-purpose products to our customers."
Awal Plastics currently operates from Bahrain which is the manufacturing hub, and Saudi Arabia which is the branch office taking care of the marketing and sales operations, while other GCC markets are covered through its joint venture partners.
"As part of our growth strategy, our Saudi Arabia operations have formally been registered in the kingdom. We have a fully-fledged design and sales team operating from our office in Riyadh that feeds into the demand to fulfil the capacity utilisation in Bahrain. Furthermore, we are engaged with new customers through their corporate identity enhancement projects which are being successfully executed and we are creating success stories that shall hold us in good stead for the future," he stated.
So, what are the new products that are being developed by the company? "We are in the process of evaluating certain laterals that could complement our core business, whereby we can expand our product portfolio and specialise in various turnkey projects," Surty said, without revealing details.
Awal Plastics has created some of the finest signage products that have firmly established the corporate visual identities of numerous entities in Bahrain, right from Bahrain International Airport, Bahrain Duty Free, and Gulf Air to Bapco, National Bank of Bahrain, Ebrahim K Kanoo (Toyota and Lexus), and Four Seasons Hotel, Bahrain Bay Development. Other distinctive names to its credit include Carrefour, Hilton Garden Inn at The Avenues, Hilton Bahrain in Juffair, Vida Hotel, Mohamed bin Khalifa bin Salman Al Khalifa Specialist Cardiac Centre in Awali, Abdul Rahman Kanoo School Diyar, Mall of Dilmunia, Diyar Muharraq, Ministry of Works, Bahrain Municipality number plates, Al Salam Bank, Ahli United Bank, Amazon, FedEx, DHL, University of Technology Bahrain, American University of Bahrain, and many more.
Surty attributed Awal Plastics's success to its commitment to continuous improvement, quality management, being the best-in-class manufacturing company through a focus on "design to a cost", value engineering principles and most importantly, manufacturing "fit-for-purpose" products with "fit-for-purpose" materials, albeit with warranties and after-sales service for every product that it manufactures.
"People-Process-Technology are the main drivers of our success whereby the process of learning never ends; however, continuous improvement and a quality-conscious workforce are what keeps us ahead of others. Teamwork and collective success brings about the difference at all times! We are as good as our last success story and hence, the appetite for growth is never satiated as the recognition and reward is the fundamental driver in the organisation that keeps the proactive engine running," he concluded.