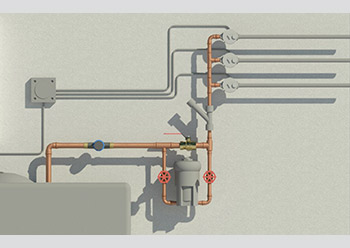 With BIM, every aspect of the project is built virtually before it takes shape physically, including the mapping of routes for pipework.
The GCC region is home to some of the world's most iconic building projects, with plans for even more ambitious and innovative projects in the pipeline. The continued growth of the region's building services industry has set a high demand for top construction standards, qualified professionals and tight schedules from companies, who are only beginning to greatly benefit from the implementation of building information modelling (BIM) to achieve this.
In fact, companies with teams who are already engaging BIM have recognised that it enhances project outcomes, boosts innovation and supports collaboration, significantly reducing project duration and costs.
Why then, has adoption of BIM still been slower than anticipated in the region?
Let's start with a reminder of what BIM is – it is not a program but a process that collates multi-disciplinary data to create virtual models of projects. This model can be accessed and managed through an open cloud platform by every party involved in the construction process, from architects to surveyors and building service engineers to mechanical, electrical and plumbing (MEP) contractors. Essentially, it contains digital descriptions for every physical aspect of the project. BIM allows for real-time collaboration throughout the lifecycle of a project, improving efficiency and performance at every point in the supply chain and ultimately leading to a superior end result.
Benefits
The benefits of BIM are plenty. One of its most useful attributes is its capability for clash detection. Before the development of BIM, teams would work independently in a multi-stage process of planning and development. With little to no communication between departments, clashes between components would often occur, resulting in costly redesigns and significant time delays. With BIM, every aspect of the project is built virtually before it takes shape physically, including the mapping of routes for pipework and other systems. This speeds up the project by identifying clashes during the earliest stage, helping design engineers and contractors eliminate chances of changes before proceeding with construction.
According to a study conducted by Stanford University, the implementation of BIM can deliver cost estimation accuracy within three per cent and enables savings of up to 10 per cent of the contract value, due to timely clash detections. Overall, projects implementing BIM technology can expect time savings of up to seven per cent.
BIM is particularly beneficial for the early identification of risks, which helps to improve synergy, and results in a more seamless and efficient delivery of the project. In addition to efficiency, it can also support with creativity and innovation – a huge draw for companies in the region with plans to deliver ambitious and artful building projects.
The accuracy and detail of BIM models provides designers with an added opportunity for flexibility so they can more easily experiment with the design.
This is just one reason why the use of BIM has been integral to the construction of some of the region's highest profile projects such as the Louvre Abu Dhabi and the Dubai Opera House. In fact, Dubai's Road and Transport Authority (RTA) recently became the first government entity in the world to be awarded a BIM certification by the British Standards Institution (BSI).
Despite its pick-up across the regional construction industry, BIM adoption in the GCC does not compare to its prevalence in global construction markets such as the US and UK. In fact, in many countries, using BIM is mandatory for projects above a certain value. The integration of BIM in the GCC, however, has encountered some growing pains, provoked, in many ways, by a lack of standardisation of the BIM process across the regional construction industry.
With the way BIM is carried out in the region, designs are often created upfront then handed over to another department which adds its contribution and passes it on. BIM models are sometimes created in stages, as opposed to being used as intended – as a collaborative working model, where all parties contribute simultaneously. Furthermore, the regional construction industry is highly fragmented with companies who operate on a wide spectrum of innovation. The design and execution of many large and iconic projects is often carried out without utilising BIM or its benefits. Also, the high upfront cost of implementation and staff training associated with BIM is often a turn off for companies who do not recognise its long-term value and potential to enhance return on investment.
In my experience with Conex Bänninger, leveraging the power of BIM can deliver numerous benefits. For example, by placing our products on platforms that aid with design such as BIMobject, we are able to boost brand awareness and gain maximum exposure to reach potential clients. Many of our key ranges for the region such as >B< MaxiPro, >B
To experience the true power of BIM, companies operating in the regional construction industry must take BIM integration to the next level. What the region needs is an industry-wide BIM strategy to increase collaboration, making it mandatory for all parties across the supply chain to employ and feed information into BIM throughout the project lifecycle. Only then, can we as an industry, truly reap the benefits of this innovative practice.
* Conex Banninger Middle East is the regional office of the UK-based Conex Bänninger, a specialist provider of high-quality fittings, valves and accessories across the globe.