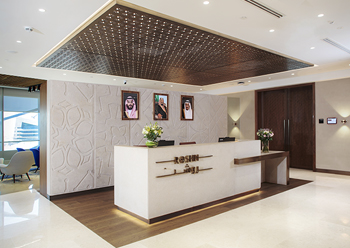 The new 5,460-sq-m headquarters of Roshn in Riyadh.
Global architecture and interior design practice Scott Brownrigg has announced that its interiors team has completed the fit-out work at the new 5,460-sq-m headquarters of Saudi community developer Roshn Real Estate in the capital Riyadh.
Scott Brownrigg says the brief for the project was for an innovative, people-centric working environment that reflects the identity, social values, and location of the fast growing and leading community developer and to create a space where employees feel empowered to strive for success, and have the opportunity to create, collaborate, and develop.
The British firm's Design Strategy Unit (DSU), therefore, conducted a series of staff engagement sessions – from departmental interviews and workshops to a bespoke workstyle profiler – in order to gain an indepth understanding of individual and collective requirements for the workspace.
Scott Brownrigg says the overall design concept offers a contemporary take on traditional Saudi design and craftsmanship. A considered internal layout with a range of work settings distributed across multiple floors provides employees with choice, flexibility and ownership in how and where they work; a space that embodies the values of Roshn, it states.
Scott Brownrigg's Director Beatriz Gonzalez says: "We worked closely with Roshn's team to integrate their new company culture and brand identity into the design. Visually inspired by the local context, the space plan promotes innovation and co-creation."
"Traditional vernacular materials such as limestone, stone and wood, create a harmonised working environment. Terracotta colours define the central core while wood provides texture and pattern definition throughout," notes Gonzalez.
The design features a new multi-purpose reception that includes spaces for informal meetings and collaboration; an innovation area to display current projects and host new project launches and functions. On floors above, individual pods and enclosed booths allow for undisturbed focus while open-plan deskwork spaces encourage informal exchange, and maximise natural light and views, she explained.
"A café located at the top of the building is a flexible sub-divisible social space, used by staff for presentations, wellness events, or simply to pause and take in the impressive views over the city," says Gonzalez.
Creating a high-quality space for partners and clients to positively engage and interact, the new Roshn headquarters demonstrates a commitment to the people they work with, and to future communities across the kingdom.
Scott Brownrigg said the innovative interior design of the headquarters supports Roshn's commitment to the Saudi people - that of boosting the home ownership across the kingdom and thus enhancing the economic growth - with Riyadh being the first of nine locations identified for the development of modern, aspirational and integrated communities across Saudi Arabia.
In 2021, Roshn was named one of Saudi's top 10 employers and even clinched the 'Best Places to Work' award. It was recognised as a national leader in employee engagement.
Scott Brownrigg is a global design leader ranked within the Top 20 UK and within the Global Top 100 architectural practices. It undertake projects across all major sectors from business space, education, residential and mixed-use through to advanced technologies, hospitality, civic and cultural, transport and defence.
The practice has studios across the UK in London, Edinburgh, Guildford and Cardiff, international studios in New York, Singapore and Amsterdam and strategic alliances in the Middle East and Hong Kong.