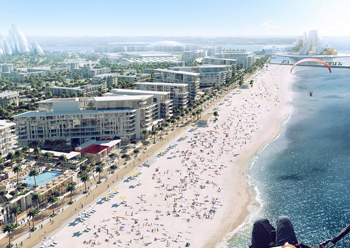 Mamsha Al Sadiyat ... environment focus.
Global architecture, planning, and design firm CallisonRTKL (CRTKL) has provided lead-consultant design services from the conception to the completion of Mamsha Al Saadiyat, a luxury beachfront residential development on Saadiyat Island, developed in collaboration with Aldar Properties, Abu Dhabi's biggest property firm.
Early works kicked off in 2015 followed by the main works commencing next year. Construction works on Mamsha Al Saadiyat concluded in June, with the first residents of the development having moved in shortly thereafter.
With three plots consisting of nine residential towers, and one plot comprising a beach promenade which overlooks the waters of the Arabian Gulf, Mamsha Al Saadiyat evokes the crisp, clean architecture of the iconic Miami Beach in its design.
Located in the Cultural District of Saadiyat Island, properties are only a short distance from the Louvre Abu Dhabi, as well as the future sites of the Guggenheim Museum Abu Dhabi and the Zayed National Museum.
A range of dining, entertainment, and retail outlets are available along the signature element of the project, a 1.4-km promenade that stretches along the shoreline of Saadiyat Island.
Matthew Tribe, Executive Director at CRTKL, said: "Mamsha Al Saadiyat has been a fascinating project to work on. We sought to create a development that provided its residents with much more than a place to live, and made use of the superlative global arts and culture scene available on Saadiyat Island as well as the backdrop of the Arabian Gulf to provide a home quite unlike any other."
Throughout the development of the project, CRTKL undertook multiple rounds of energy modelling, alongside studies of sustainability and materiality, to ensure that Mamsha Al Saadiyat is as energy efficient as possible in its development. In consequence, Mamsha Al Saadiyat received a 2 Pearl accreditation from the Abu Dhabi Urban Planning Council's sustainability rating, Estidama.
Geoff Ford, Associate Director at CRTKL and project lead, says the firm has ensured that the construction and use of Mamsha Al Saadiyat does not impact the pristine natural marine beauty of the emirate of Abu Dhabi. This comes in line with CallisonRTKL's wider 'sustainability first' approach, implemented on its projects across the world.