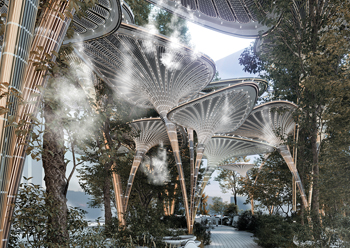 Oasys ... inspired by palm leaves.
Italy-based Mask Architects and Design Company has been selected as one of 10 winners of the Cool Abu Dhabi competition for its design proposal 'the artificial breathing palm modular structure system' – Oasys + System.
Mask Architects is a young architecture and design firm headquartered in Italy and founded by leading industry veterans Danilo Petta (with more than 20 years of experience) and Öznur Pınar Çer. Both Oznur and Petta also boast expertise in medical design equipment, health and education in addition to yacht and watch design.
Cool Abu Dhabi is a global design contest organised by Abu Dhabi's Department of Municipalities and Transport (DMT), aimed at attracting creative ideas to tackle climate change and provide solutions for the urban heat island effect in significantly warmer areas of the UAE capital.
With prize money worth $100,000 up for grabs, the competition attracted a total of 1,570 entries from 67 countries.
Explaining the winning design, Oznur and Petta say: "We have designed The 'Oasys' as an oasis located in the middle of the city to our allocated space in which we will transform the space into a comfortable habitable area for the residents of Abu Dhabi. We see and realise the need for such a measure to be taken to create such spaces in our developing societies."
"As Abu Dhabi seeks to grow its vibrant and diverse city, it can be seen that it has growing industries in tourism, education, finance and culture that allow the emirate to thrive. So we agree that outdoor thermal comfort installations are important to public and private spaces as well as the sectors that will see the ease of threat from climate change to urban development and society," they add.
The Italian architects say the Artificial Breathing Palm modular structure system, 'Oasys' is inspired by palm leaves to create a real oasis.
"We have designed an oasis that protects Abu Dhabi's residents and makes their lives more environmentally sustainable and healthy for them to be able to use outdoor spaces more effectively in their daily routines. It is important that we keep the residents socially and physically engaged with their surroundings by increasing their desire to interact with outdoor spaces. Hence, we have designed a multi-use space in which it will act as a refuge from the surrounding areas that are overheated. There can be temporary pop-up stands, cafes, sitting area, exhibitions sites, nature retreats etc. The oasis we have created has answers to all the issues of modern urban and social space development that we face in such environments in the region. Our design stands as a barrier from heat, ultraviolet (UV) rays, noise and wind," the architects explain.
The "Oasys" design concept has been influenced by the need to create a greener city as well as creating a real oasis in the middle of the city.
The modular design allows groupings of the palm structures that can be implemented in various and multiple spaces of all scales and environments as each module is scalable to need. The foundations that house all the water storage and vital equipment will be set up first in the appointed land where cooling is required.
"Our installation modules can be temporary as to when needed and focus on the months of May to October as well as permanent," say the designers.
"The palm canopies are underlined with nozzles that spray mist into the air to create a cooler environment. This, in return, will keep the temperature low and controllable in the 'Oasys' area. We wanted to create cool and breathable outdoor spaces.
"We will collect and harvest solar energy with solar panels placed on the roofs of the palms. With the foundation housing storage units, we will be able to store electricity as well as able to distribute it at outlet points. The palms and branches of the structure provide protection from wind and sound," they state.
Mask Architects plans to block out all external effect from the surrounding area and stop it entering the space, as wind and noise.
"This allows creating a calm and peaceful environment. We also will have trees surrounding the structure to create an extra-eco space. This will also help with deflecting wind and sound and creating fresh air and creating a habitat and sanctuary for birds," they add.
"When it turns dark, the lights come on. Fitted under the palms are lights that will be interactive. They will be used to create a mood-setting environment for each and any occasion. Blue lights on the modules will resemble the sky, as the yellow lights represent the sun and green is also a reflection on the ecology," the duo elaborate.
"The Artificial Breathing Palm modular structure system will act as a setting also for an exhibition space for art installations, design weeks and so on. We are sure that the setting will excite users, from children to the elderly," they add.