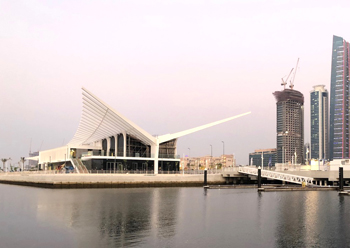 Harbour Master's building
A new imposing landmark is receiving its finishing touches in the heart of the new Dubai Harbour marina area, next to Palm Jumeirah in Dubai, UAE.
Designed by the boutique design studio AMA, the Harbour Master's Building is set to be a focal point for the whole marina near the Ferry Terminal, with a new public square beside the entrance for events.
The 7,000-sq-m mixed-use public building will be a first port of call for arriving boats and visitors and will feature a restaurant, café, marina services and main offices for the management of the new marina.
The client's brief to AMA was to create a striking landmark building as it is surrounded by water in the heart of the new marina. In addition, the client wanted the design to be practical, functional and respect the tight budget.
"They wanted to create something iconic, without over-spending money on complex geometries or risky construction methods. This was a challenge but something we have the experience and skills to deliver on," Andy Shaw, Managing Partner of AMA, tells Gulf Construction.
AMA has responded by creating architecture that is both iconic and practical, and so could be delivered on time and budget by controlling the complexity of the design and construction. The planning and construction is all rectilinear, explains Shaw, who is also Chair of RIBA – Gulf Chapter.
The design is contemporary, fresh and follows the nautical narrative of the site, featuring a striking steel roof, according to Naji Mahmoud, Design Partner.
The swooping roof design does not require the construction of double curves by breaking it into lines.
Mahmoud continues: "The design is very much inspired by its location, by the many things that people connect to the sea, in an abstract way. We like that different people form a different relationship with the building and their own interpretation of what it represents to them."
The building uses both a steel and concrete frame for the structure, with curtain-wall glazing and aluminium cladding. The aluminium panels feature a unique printed pattern design, inspired by the effects of glistening water reflections. The feature roof is all made from steel and there is a standing seam roof over the restaurant.
"Internally, there are generous spaces and lots of natural light to feel welcoming," Shaw remarks. "For interior materials, there is a nautical industrial aesthetic – a mixture of exposed steel and services, porcelain tiles and also timber for warmth."
Commenting on some of the challenges on the project, Shaw says: "We did encounter some supply chain disruptions due to Covid-19 and had to change some selected specified materials."
Shaw and Mahmoud are joint partners at AMA, who together have over 10 years of experience working with leading firms such as for Michael Hopkins, RMJM and 10 Design on landmark projects in the UAE and abroad.
Their practice provides high-quality, contemporary design for building projects in a bid to create architecture that is expressive and elegant whilst also functional and cost-effective for its clients.
AMA carries out design services for mixed-use projects, townhouses, luxury villas, high-rise towers and public buildings, including the masterplan and interiors. It is currently working on a number of projects including a large masterplan in Abu Dhabi with sustainable features; two co-living projects as well as several towers in Dubai and Egypt with Emaar; and waterfront as well as fast-track hospitality projects.
"We have designed the recently launched Emaar Golfville co-living project and Golf Suites luxury apartments in Dubai Hills Estate. We enjoy innovation and have developed buildings with 3D-printed components, and complex geometries," Shaw says.
AMA has been growing its work internationally since 2014 and has several active sites around the world. It has recently delivered major residential and public projects for Emaar, Aldar, Meraas, Dubai Future Foundation, Al Ghurair and various private clients.
"We like to produce striking contemporary design and make it accessible for all. We have produced everything from large projects for the Dubai Future Foundation to villas on The Palm for private clients. We have delivered several towers and townhouse designs for Emaar in Dubai Hills Estate such as Golf Suites and Golfville, both on site now. We also have work built in Europe and Asia," he adds.
So what are some of the challenges encountered by AMA in this market?
Shaw cites that delivering high-quality projects that don't get changed during the contract stage is among the major issues encountered. "The specifications and contract drawings must be respected," he stresses.
He also emphasises that clients should allow more time with the design team to develop the ideas and understand their own needs better.
Another challenge Shaw has faced is making designs that are truly sustainable. "It is very hard in this region at present, with current technology and budget expectations," he points out.
According to Shaw, the latest architectural trends in the market are to create highly liveable, healthy communities for the post-pandemic future.
The future of design is in creating real sustainability – not just 'greenwashing' – establishing communities without cars, with cleaner mobility, which will transform cities. There is also an increasing use of 3D-printing construction technology in buildings and of off-site construction methods and demand for co-living, community-based housing, he indicates.
"We believe architecture and the construction industry is at the start of a transformation stage. Both will be disrupted and improved drastically by technology over the rest of the decade," Shaw remarks.
He believes the market is changing in the Middle East and smaller, agile local companies like his company will have more impact in the region.