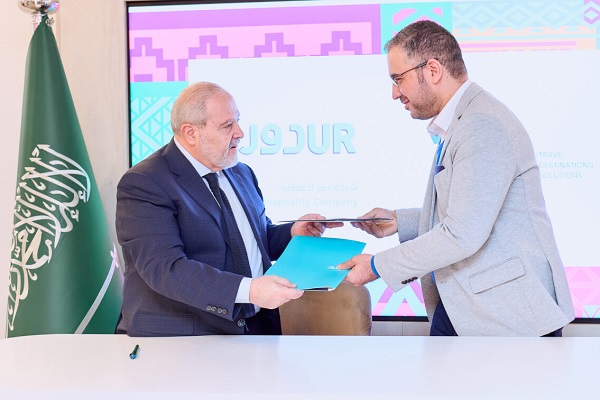 Dur Hospitality, a leading Saudi hospitality company, has announced the signing of a strategic partnership with leading travel and tourism services company, Travel Destinations Solutions (TDS).
The agreement aims to promote Dur Hospitality's hotel brands and strengthen B2B connections, which will positively impact the company's growth, expanding its offerings to a broader audience of the Kingdom's visitors.
As part of this strategic partnership, Dur Hospitality hotels will be a preferred choice for global travel agents within the TDS network, bolstering the global footprint of Dur properties in international travel markets.
This strategic alliance is poised to drive sales and profitability, offering Dur exclusive marketing avenues across a diverse range of tourist markets and networks, it stated.
The deal comes at a time when Saudi Arabia's tourism sector is experiencing unprecedented growth.
According to the UNWTO, the kingdom has witnessed a remarkable 64% growth in international visitors during the first quarter compared to the same period in 2019, thus achieving the second-highest growth rate among global tourism destinations.
The collaboration with TDS will enhance the reach of Dur hotels, contributing to the group's expansion across international markets.
"The agreement will introduce Dur Hospitality's properties to the targeted groups, particularly in the business sector, enhancing our global presence," said Hassan Ahdab, the Dur Hospitality President of Hotels Operations, after closing the deal with TDS Deputy CEO Ahmed El Faramawi on the sidelines of the World Travel Market (WTM) in London.
El Faramawi said: "Dur Hospitality plays a pivotal role in showcasing the kingdom's tourism at its best. Through its properties, Dur embodies the authenticity of Saudi hospitality, aligned with world-class standards."
"This agreement mirrors our strategy to deliver exceptional travel experiences precisely tailored for visitors to Saudi Arabia, aiming to position the Kingdom as a global tourism hub," he stated.
Dur Hospitality consistently takes part in international exhibitions and conferences, with its recent engagements including the World Travel Market and ITB Berlin.
This active involvement complements the company's position as a distinguished hospitality brand in the Kingdom's market and strengthens its connections with global partners, he added.-TradeArabia News Service