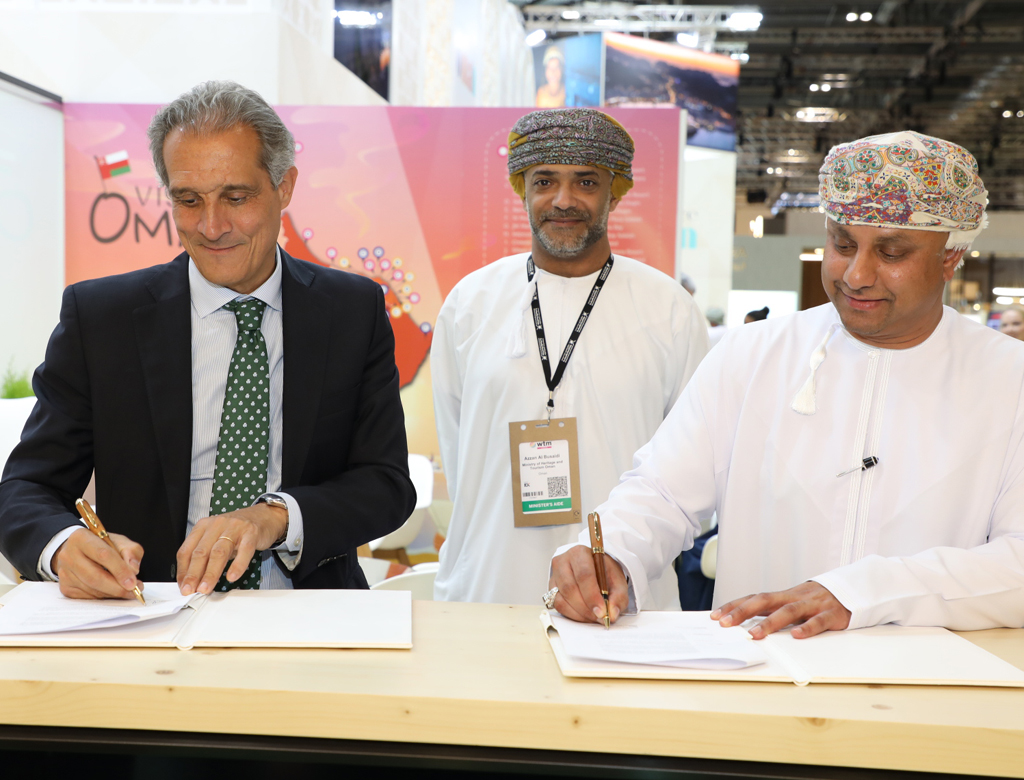 Leading Spanish hospitality management group, Barceló Hotel Group, has announced at the World Travel Market (WTM) in London a ground-breaking partnership with Oman Tourism Development Company (Omran Group).
The strategic agreement aims to augment investment and growth opportunities in Oman's tourism and hospitality sectors and foster economic growth with the launch of hospitality projects in the country.
The joint partnership will establish a real estate development fund aimed at investing in key tourism and hospitality projects across the country. This initiative aligns with the Partners' vision to position the Sultanate as a leading hospitality destination in the global space and enhance Omran Group's objectives to drive foreign direct investment (FDI) in strategic development projects.
Raúl González, CEO of Barceló Hotel Group, said: "We are immensely proud of the remarkable strides Barceló Hotel Group has made in Sultanate of Oman, and this strategic partnership with OMRAN Group reaffirms our commitment to the Sultanate's tourism and hospitality sectors. Together, we will drive FDI and growth opportunities, and position Sultanate of Oman as the leading hospitality destination for travellers worldwide."
The fund will focus on key objectives and investment opportunities. Barceló Hotel Group will also manage and operate the fund's assets to boost investment and growth opportunities in the 4-star and 5-star hotel segments, and other development projects.
Hashil bin Obaid Al Mahrouqi, CEO of Omran Group, stated: "Barceló Hotel Group stands out as the hospitality collaborator for this venture. Their remarkable footprint in the Sultanate of Oman, particularly evident in the transformation of Mussanah into a sought-after tourism destination, is testament to their excellence. This strategic alliance underlines our dedication to solidify Oman's stature as a front-runner in the global tourism and hospitality realm, drawing visitors from all corners of the world, and subsequently elevating Oman's international profile. We eagerly anticipate fortifying our partnership with Barceló Hotel Group, leveraging their seasoned expertise in leisure tourism markets and the robustness of their distribution networks in foreign markets."
Barceló Hotel Group has played a pivotal role in developing Mussanah as a tourism destination. In 2021, Omran Group appointed the Spanish hospitality management group to manage and operate Barceló Mussanah Resort and develop Mussanah as a prominent international tourism destination. Since then, Barceló Hotel Group signed several key agreements, including a long-term partnership with touroperators Nowa Itaka and Cedok to introduce direct flights from Poland and the Czech Republic to Muscat, positioning Sultanate of Oman as the ideal hospitality destination in European markets. The group has also partnered with Oman Sail to host the World Sailing Championships at its flagship beach resort in Mussanah, yielding exceptional results and driving revenue streams and client satisfaction levels in the Sultanate. - TradeArabia News Service