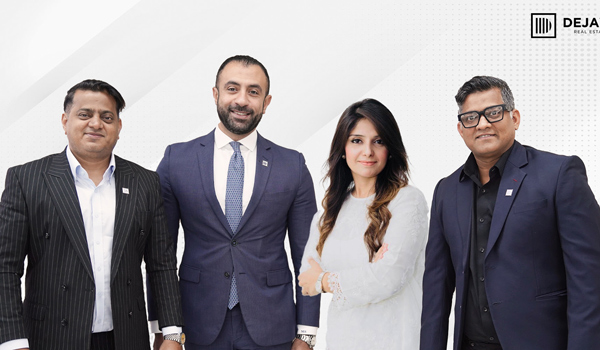 The Deja Vu team with Samak
UAE's Deja Vu Real Estate has appointed Mohab Samak as its new CEO and Managing Partner.
Samak, a seasoned industry veteran with nearly two decades of experience in real estate, including distinguished roles at industry titans like Emaar, Hamptons International, and Engel & Völkers Dubai, is celebrated for his profound knowledge and expertise.
The decision to welcome Samak to this pivotal role underlines Deja Vu's steadfast position as the leading authority in buying, selling, renting, and managing properties in the UAE.
Raising the bar
This appointment marks a significant milestone in the company's evolution, signalling its dedication to raising the bar in the industry. With a well-thought-out strategy in place, Deja Vu Real Estate is primed to ascend to the summit of the UAE real estate market.
Samak said: "We are thrilled to extend an invitation to all our clients, partners, and stakeholders to join us on this exhilarating journey of growth. Together, we are set to redefine real estate consultancy standards and service levels, reaffirming our belief in the limitless potential of Dubai's real estate market and beyond."
The UAE's real estate sector is currently experiencing unprecedented growth, and Deja Vu is strategically poised to seize these opportunities. Samak's appointment as CEO and Managing Partner aligns perfectly with the burgeoning real estate landscape in the UAE, which promises robust growth in the coming years.-- TradeArabia News Service