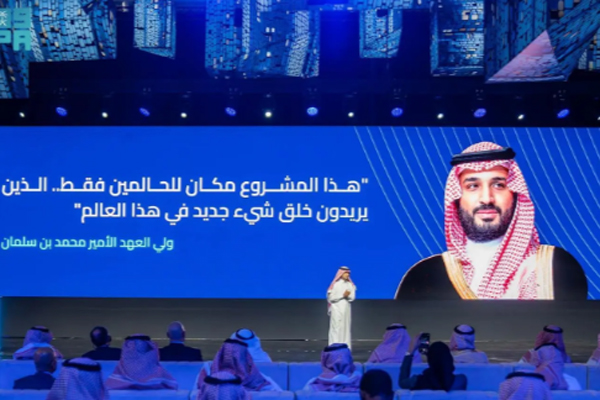 The inaugural edition of Cityscape Global Exhibition, the world's leading real estate event, opened its doors today (September 10), welcoming hundreds of global master developers into the capital Riyadh where they will be showcasing their giga projects in front of 160,000 visitors from across the globe.
The exhibition will run until September 13 at the Riyadh Exhibition and Convention Center in Malham, North of Riyadh.
Being held under the theme of "Future of Living," the event is sponsored by the Ministry of Municipal Rural Affairs & Housing and organized by Tahaluf.
A key highlight of the opening day includes exclusive launches at the NEOM Future Home Building Summit, in addition to several panel discussions that will address several topics such as Current Innovations in PropTech Spearheaded by Women, the Impact of Design, as well Blockchain Uses in Real Estate, among many others.
Another highlight is the Roshn hackathon that will go live with two tracks: The New Venture Ideas and the Established Startups, said the organisers.
The hackathon is tailor-made for the Saudi Prop-Tech industry with the ultimate purpose of revolutionizing software solutions that are user-friendly, scalable, and community-driven in a way to transform real estate operations and boost general effectiveness, they stated.
It will help introduce pioneering products that leverage technology to enhance the real estate experience by developing innovative devices or solutions that integrate with properties such as smart home technologies.
Besides that it will provide innovative solutions to the infrastructure and compliance obstacles that are experienced in the prop tech industry such as data privacy, security, master plan creation, they added.
As an important global platform for showcasing unique real estate projects such as the Battersea Power Plant, Cityscape Global returns this year with an exceptional edition for the Kingdom, bringing together the giga Saudi Vision 2030 projects and top real estate developing companies.
More than 160,000 people have registered for the event, while exhibitors' applications have reached to 135% of the centre's area, with revenues of SAR100 million ($27 million).
Speaking on the occasion, Engineer Abdullah AlBudair, Vice Minister at the Ministry of Municipal Rural Affairs & Housing, said: "Cityscape Global represents a significant opportunity for consumers and stakeholders since it offers a vital platform for those seeking housing who are looking for the ideal residential unit, especially given the engagement of numerous real estate companies, as well as the promising investment opportunities the exhibition opens up through the participation of over 2,000 investors, right through we will witness exclusive real estate announcements and projects."
Cityscape Global has also developed an app that allows attendees to browse the forum and stage session timetables and learn about the speakers, exhibitors, and event information, he added.-TradeArabia News Service