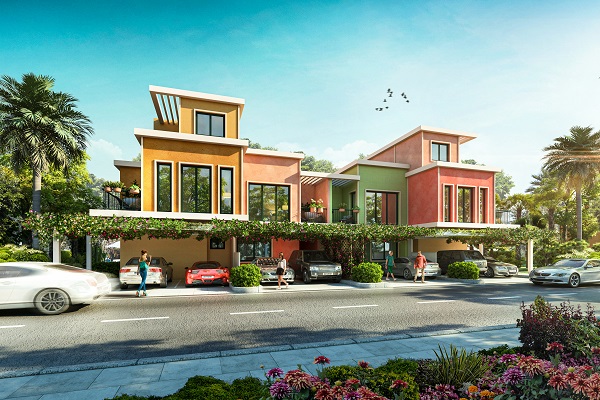 Leading UAE-based real estate developer Damac Properties has announced further developments to its third master community, Damac Lagoons with new contracts worth close to AED235 million ($64 million) awarded to Hills & Fort Construction and Ancient Builders Construction.
Located adjacent to Damac Hills, the Lagoons community is the Emirati developer's third master community project in Dubai covering a total area of 45 million sq ft.
There will be several activity hubs and residential clusters in the community, all themed and named after Mediterranean cities such as Nice, Morocco, Ibiza, Portofino, Monte Carlo, Marbella, Mykonos, Malta, Santorini, Costa Brava, and Venice.
According to Damac, Hills & Fort Construction has been awarded a contract for the community roads and infrastructure works at the Malta and Venice clusters, while Ancient Builders Construction has been awarded the main works package for 61 villas at the Portofino cluster.
"The new contracts are a testament of the construction speed and pace that we are maintaining in developing our third master community, Damac Lagoons," remarked Mohammed Tahaineh, General Manager of Projects at Damac.
"We are thrilled to see that our latest community project is steadily moulding into a reality, breathing life to a project that is close to our hearts. We look forward to maintaining this progress, and taking the finished product to our customers at good speed," he stated.
According to him, residents at the community will have a range of facilities to enjoy - starting from waterside cafes, a floating cinema, lagoon-facing infinity pools, outdoor art exhibits, yoga lawns to an Augmented Reality (AR) nature trail, a spa and beauty salon, and a meditation lounge.
In addition, residents seeking to partake in fitness activities can enjoy the rock-climbing wall, kayaking, paddle surfing, a zipline, and several bicycle trails. The community also has the advantage of location that has in its close vicinity various schools, entertainment centres, and hospitals.
The community is set to become one of the first Leed for Communities Gold Certified projects in the UAE. All villas and buildings meet Al Safat Silver in addition to certifying two main commercial buildings with LEED Gold Rating, the clubhouse and the sales centre, stated Tahaineh.
Damac Properties has been keeping momentum with the rapidly growing real estate market fervour, helping fill the supply chain to match the rising demands from investors in the UAE.
As well as its growing residential master communities, the company has announced multiple tower projects catering to the expanding luxury residential segment in the region.
With a robust track record of successful projects in the home market, the company has been looking towards strategic expansions to new geographies, noted Tahaineh.
Following the successful launch of its iconic tower in London, Damac is set to announce plans for Miami and Toronto in good time, he added.-TradeArabia News Service