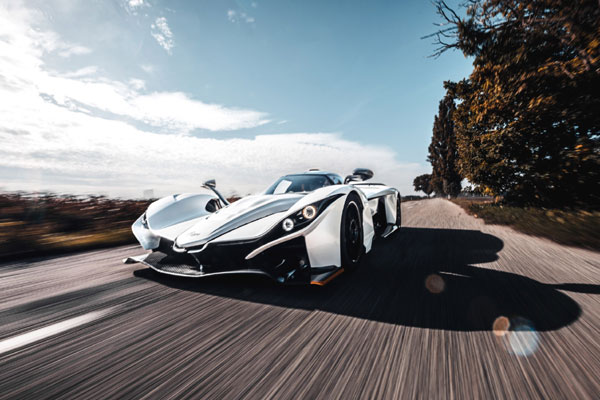 Leading Czech automaker Praga has cemented its place on the hypercar grid with Bohema - a $1.3 million all-new road legal, limited run, race-bred hyper car inspired and tested by F1 and IndyCar star Romain Grosjean.
The Praga Bohema is entering the final few months of development with road and track programmes planned in the UK, Europe and Middle East and at the Slovakia Ring home circuit.
The historic automotive company Praga, currently a global player in various on- and off-track racing disciplines around the world, has revealed its all-new road legal hypercar in pre-production prototype form: a high-performance, low-volume, beautifully-appointed car designed around three core principles – lightweight, carbon, petrol.
Once out n the roads, the new Praga Bohema, which boasts a sub-1,000 kilogrammes, mid-engined two-seater, is capable of extreme high performance on track targeting GT3 race car lap times on its semi-slick Pirellis. Yet it is also comfortable and practical for head-turning road trips.
With its carbon fibre monocoque and race-oriented fully adjustable suspension, it is extremely light, targeting just 982 kgs (wet without fuel), while its powerful Nissan GT-R-derived six-cylinder twin-turbo engine ensures reliability, ease of servicing and the potential for further performance tuning.
Bohema's race-derived semi-automatic transmission will support a unique on-road experience with track-focused performance, it stated.
The inspiration for the hypercar was the longstanding Praga friend and ambassador, and former F1 and current IndyCar driver, Romain Grosjean who challenged Praga to deliver a genuine uncompromised two-person road/track performance car, promising a truly unique driver experience.
That the Bohema is a uniquely styled, rare and exclusive car that you really can drive to the track, pull on a crash helmet (taken from the bespoke luggage fitted in each of the car's innovative 50-litre side pods), put in lap after lap at high speed on its Pirelli Trofeo R tyres, and then drive home again, said Grosjean who was involved in the Bohema project.
He highlighted the car's seamless transition from road to track whilst delivering extensive sessions on the challenging six-kilometre Slovakia Ring circuit in recent testing.
"I was astonished by the Bohema's amazing performance on track, its accessibility on road, and the ease of transition between the two," remarked Romain.
"Praga has truly delivered on my challenge! On the road, you get a smooth ride, the car eliminates the bumps, you can chat with the passenger, and everything is calm and OK. Then simply switch focus and you are on the track," said the F1 and IndyCar star.
"The same clothes, the same car, but the feeling changes and you are pushing the limit and collecting amazing lap times again and again, discovering unbelievable possibilities in the Bohema. And we still have a few months to fine-tune the on-road compliance and on-track lap times!," he added.
Bohema is an all-new design, developed by Praga's small, but talented team of engineers and designers, and perfected in an F1 team's wind tunnel. It uses a race-derived carbon fibre monocoque, with extensive aero providing over 900 kgs of downforce at 250 km/h. Top speed is just over 300 km/h: the fastest speed achievable on virtually any racetrack.
Crucially, the car's aerodynamically-inspired engineering has not eliminated elegant and intriguing designed bodywork to ensure the car looks fast, and looks good.
High quality machined Praga Gold painted duraluminium details include door hinges and a tow hook featuring an integrated rear-facing camera that stand out on the Praga blue show car and reflect Praga's attention to detail. The Bohema is that rarest of cars with the 'wow' factor in both looks and performance.
Unlike many racetrack-derived performance cars, the Bohema's ingenious interior ergonomics delivers a narrow, aerodynamically honed cockpit yet seats two, two-metre-tall adults with fully adjustable driver's seat, steering wheel and pedals, generous luggage space, aircon and useful rear visibility. All at less than 1,000 kg.
Praga said its obsession with its sub-tonne target weight is highlighted by the Bohema's cockpit statistics: structurally designed with 56 individual carbon parts, and trimmed with high-quality Alcantara and leather, the cockpit's target weight is just 34 kgs.
The focus on keeping the Bohema under 1,000 kgs is demonstrated by Praga's remarkable attention to detail in every aspect of the design, with extensive use made of carbon fibre, magnesium alloys and titanium, it added.-TradeArabia News Service