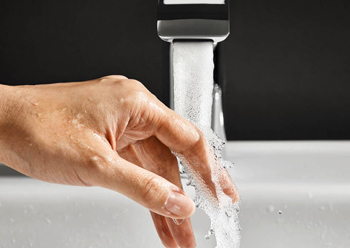 Vivenis taps offer a wide luxurious spray.
Hansgrohe, a leading German manufacturer of showers, shower systems, bathroom and kitchen faucets and kitchen sinks, will be putting the spotlight on its cutting-edge products at the Hotel & Hospitality Saudi Arabia Expo this month (September 10 to 12), targeting key buyers who are actively sourcing for their upcoming hospitality projects.
Mohab Al Ahmed, Head of Office KSA and Bahrain at Hansgrohe SE, told Gulf Construction that the company has been consistently and steadily making a name for itself as a leader in innovation, quality, and design through its strong brands Hansgrohe and Axor. He expects the company to further reinforce its presence in the region through its participation at the expo.
Among the innovations on show will be the new generation of iBox Universal 2, a versatile concealed installation solution that gives maximum design freedom in the bathroom; the Pulsify, a modern shower family designed for small spaces; the Finoris, a highly mobile lavatory faucet; Vivenis taps that offer a unique wide luxurious spray; Tecturis S and Tecturis E faucets; Metropol fittings; and RainDrain Flex – all from the Hansgrohe brand.
Meanwhile from the Axor brand, the limelight will be shared by Axor One Colors curated by Baber Osgerby, which extends last year's Axor One bathroom collection with a selected palette of coloured faucets and fixtures inspired by a specific set of naturally occurring interactions between light, colour, and water; Citterio, an icon of modern bathroom design; MyEdition flat, modern and minimal faucets; and the Axor Edge and Axor One shower sets with latest accessories.
Wolf ... targeting buyers who are sourcing for their hospitality projects.
Hansgrohe returns to the show this month, having received enthusiastic response to its participation in the Hotel Show in Saudi Arabia last year.
"We garnered fantastic feedback from both visitors and partners after our participation last year. This marked our inaugural exhibition in Saudi Arabia, where our primary objective was to convey our commitment to water," Al Ahmed commented.
"Reuniting with everyone in person following the pandemic was truly heartening. The exhibition served as a remarkable platform to unveil our cutting-edge innovations and novel offerings, allowing us to engage effectively with our esteemed clients," he added.
According to Andreas Wolf, Head of Middle East & CIS at Hansgrohe, Hotel & Hospitality Saudi Arabia presents an excellent opportunity for Hansgrohe and Axor to present their collections and new products to potential clients and influencers in the region.
"In Saudi Arabia, where the dynamic hospitality sector has been on an upward trajectory for years, and where some very exciting developments are being launched, we are keen to explore new opportunities. The company's reputation is built on its ability to create and provide products that are synonymous with luxury, precision manufacturing, and a commitment to the environment, and we are proud to see them used in luxury hotels and accommodations throughout the world," Wolf remarked.
Mohab Al Ahmed, Head of Office KSA and Bahrain at Hansgrohe SE
"This year, we are thrilled to present an array of captivating offerings. Building on the resounding success of our participation in the ISH fair in Frankfurt, we are excited to bring forth the latest technologies and innovations to our esteemed clients in Saudi Arabia," Al Ahmed added.
Hansgrohe caters to the needs of the hospitality sector, in terms of durability, aesthetics and well-being by collaborating with the foremost global designers to meticulously craft and manufacture products that prioritise eco-friendliness.
"Firmly rooted in our conviction that water is synonymous with life, our cutting-edge innovations enable us to deliver products that harmonise with nature, seamlessly integrating sustainability without the slightest compromise to the user experience. This synergy between ecological mindfulness and exceptional user satisfaction holds particular significance for the hospitality sector. We recognise that discerning guests anticipate nothing less than the finest quality offerings coupled with an air of exclusivity," Wolf pointed out.
Hansgrohe and Axor products are defined by the attention to detail, the love of comfort and convenience and the respect for water as a resource, Wolf added.
"We are continuously striving to improve our products and always looking for new ways to innovate. We are passionate about creating products that are not only aesthetically pleasing but also highly functional and sustainable. We are a pioneer in the development and production for sustainable and innovative products and are committed to providing the highest quality products and services to our customers," he said.
To cater to the requirements of the region, Hansgrohe offers a Middle East assortment which is designed to meet SASO's technical regulation quality mark requirements for water consumption rate, according to Al Ahmed.
Commenting on the company's performance in the region, Wolf said: "Our expansion within the region has been nothing short of rapid. While the business landscape underwent a profound transformation in the wake of the pandemic, we adeptly navigated the ensuing challenges. Through strategic resilience and unwavering determination, we not only weathered the storm but also achieved remarkable growth over the past years."
"We possess ambitious plans to extend our growth within the region, as we hold a steadfast belief in the limitless opportunities it presents. The region's landscape is imbued with a wealth of promising prospects for the future, and it is our fervent desire to play a pivotal role in its success story," he concluded.