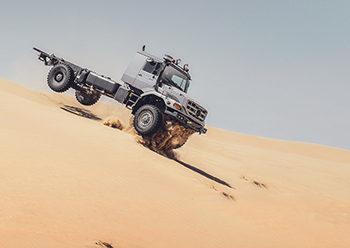 Zetros ... offered with a two-year or 250,000 km warranty.
Juffali Commercial Vehicles (JCV), a leading provider of logistics solutions in Saudi Arabia, said the Zetros from Mercedes-Benz offers a dependable option for long-distance haulage, even on rough terrain.
"The Zetros is not only capable of handling rough terrain, but is also comfortable and fuel-efficient on the highway. It can tow heavy loads and travel long distances without breaking down. This is because this unique off-road truck benefits from more than 120 years of experience and know-how and represents the excellent quality associated with the 'Made in Germany' label," said Heiko Schulze, CEO of Juffali Commercial Vehicles, the agent for Mercedes-Benz in Saudi Arabia.
Manufactured in the German town of Wörth at the largest truck assembly plant in the world, the Zetros has been enhanced to withstand extreme conditions on both the road and off-road terrain. While tried-and-tested features remain, significant improvements have been made to ensure that the Zetros always reaches its destination without compromise, according to Schulze.
This cab-behind-engine truck excels in off-road capabilities and operating strength in extreme conditions. Due to its unique design placing the cab behind the front axle, this versatile vehicle offers several advantages for drivers, especially on rough and bumpy roads and terrain such as potholes, muddy ruts and mountains, and in extreme climates. The Zetros has the ability to go beyond the limits of a conventional truck due to its reliable electronic systems and easily accessible technology, he added.
Schulze commented: "We are a leading provider in Saudi Arabia and have a deep understanding of the intricate and rigorous demands of the construction and oil and gas sectors. Our services include the transportation of pipes, chemicals, drilling equipment, personnel, fuel, water, and other materials – even in the most challenging and remote terrains. Our vehicles are designed, constructed, and tested with daily usage in mind."
The Zetros comes in 12 variants, each available directly from the manufacturer. It can be used as a dumper, platform vehicle or semitrailer truck, with either two or three axles and with or without all-wheel drive. The Zetros meets Euro III emissions standards.
The durable and dependable vehicle is available as a 4×2/4×4 vehicle in 18–22 ton weight variants or 6×4/6×6 models in 25–40-ton options with six-cylinder in-line engines. As a three-axle semitrailer tractor powered by the OM 460 engine, with a permissible gross combination weight of up to 120 tonnes, the Zetros offers enough reserves to reliably transport the heaviest loads on multi-axle trailers far beyond paved roads, Schulze explained.
The high output (360hp – 476hp) engine has long maintenance intervals, and low service expenditure.
The cab is spacious and well-designed, providing ample room for movement and a well-arranged set of controls and indicators. It is positioned in such a way that it reduces shocks and vibrations.
Furthermore, the Zetros offers an air-conditioned driver's cab option that comes without an engine tunnel. It boasts easy entry and exit, and fully functional comfortable seats for up to three people and storage for equipment or a sleeping area on the back wall. The vehicle also provides excellent visibility and a comprehensive overview, completing its ergonomic design.
A further attraction to fleet owners is the fact that the Zetros comes with a two-year (first year bumper-to-bumper and second year on powertrain) or 250,000 km warranty, whichever comes first, said JCV.