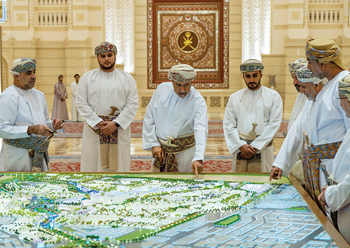 HM Sultan Haitham bin Tariq Al Said views a model of the proposed city.
Oman has announced the launch of 'Sultan Haitham City', a mega development that will come up on a 15-million-sq-m area, featuring 20,000 residential units along with key modern lifestyle amenities as well as ample green space.
His Majesty Sultan Haitham bin Tariq Al Said presided over the grand launch ceremony of the Sultan Haitham City held at Al Baraka Palace.
Sultan Haitham City will feature sustainable lifestyles to accommodate all segments of society, giving them access to all social and recreational facilities.
The city will focus on 12 global standards on quality of life and welfare covering affordability, advanced integrated facilities and modern lifestyles, reported Oman News Agency (ONA).
HM Sultan Haitham was also briefed about the brand identity and message of Sultan Haitham City, dubbed "Treasure the Future".
Sultan Haitham City, which has a green area covering 2.9 million sq m, will be home to 100,000 residents. The housing units will be spread over 19 neighbourhoods, equipped with various facilities and services for the residents.
The city will also have 11 health facilities, including two health centres that cater to the needs of 20,000 patients and another set of six health centres with a capacity to serve 10,000 patients, said the ONA report. A key highlight is the 1,200-bed referral hospital in addition to a private hospital and a centre to serve persons with disability and elderly people.
The project will boast 39 government and private schools. The residents will be served by an internal transport network, which has been meticulously planned to ensure easy access to the largest possible number of facilities. The network has taken into consideration both the public and private transport vehicles and facilitate the smooth flow of traffic from the centre to the periphery of the city.
The city also boasts other features like pedestrian walkways and bicycle paths to provide a variety of transportation modes and healthy lifestyles and focus on sustainability, it added.