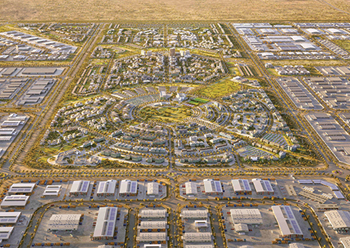 Masterplan of Spark ... the first phase will comprise six clusters.
With the go-ahead last month for the construction of a residential complex and workers village within the mega energy hub in the Eastern Province, King Salman Energy Park (Spark) has flagged off yet another key component of what is fast taking shape as a fully-integrated industrial city.
The dedicated residential area will allow residents to live, play and learn while the commercial and industrial zones will help businesses build, operate, and prosper in the heart of Saudi's energy sector, ensuring Spark is a truly integrated industrial hub.
This year is expected to see many exciting developments in tenant construction and completions, informed sources at Spark told Gulf Construction.
Spark is strategically located in the Eastern Province between Dammam and Al Ahsa. The energy hub has seen impressive growth since December 2018, when HRH Prince Mohammed bin Salman bin Abdulaziz, Saudi Arabia's Crown Prince, Deputy Prime Minister and Minister of Defence, laid the foundational stone for what is destined to become a global centre for the energy industry and technology.
With sustainability at the heart of its development programme, Spark is the first industrial city in the world to receive Silver Level accreditation for Leadership in Energy and Environmental Design (LEED).
Work on the SR6-billion ($1.6 billion) first phase of infrastructural development of the massive 50-sq-km site is now more than 90 per cent complete. The first of the three-phased development consists of infrastructure, roads, utilities and real estate assets over 14 sq km, in addition to a dedicated 3-sq-km logistics zone and dry port. Work on the second phase is expected to begin in 2025.
The first phase is divided into six clusters: a logistics zone and dry port, an industrial hub, a business district, a digital hub, and residential and commercial areas.
Key infrastructure developed to date includes Spark's administration building, mosque, fire station, health clinic, and auditorium. Spark's commercial centre –which includes mixed retail options such as dining outlets, cafés, mini-markets, gyms – is also nearing completion. A highway for Spark is also under development to enable movement of goods and services and increase access to the energy park.
The state-of-the-art, fully automated logistics zone and dry port is being built by Spark Logistics, a joint venture created by Spark and Hutchinson Ports, in line with Saudi Arabia's goal to become a global logistics hub. The dry port will enable investors to leverage the growing demand for logistics services for energy-related products in the region. It will be fully automated and the region's largest dedicated dry port, handling up to 10 million tonnes of cargo per year.
The logistics zone provides direct access to inland and dry intermodal ports along with bonded areas, warehouses and support services.
Spark also has a partnership with Oilfields Supply Center (OSC), which offers investors a variety of ready industrial facilities with a flexible choice of resourcing and service models to help accelerate the establishment of companies at Spark, while reducing implementation risk and increasing efficiency.
The logistics zone will have an integrated industrial platform with OSC, the world's largest Common User Supply Base (CUSB), providing full access to the local supply chain and building a ready-made community to connect investors.
Spark will feature two hubs focused on non-metallic materials and digital technology that will help the energy city to pioneer the use of multiple cutting-edge technologies.
The digital hub will be home to mega data centres being developed by two of the world's leading data centre developers. It also hosts Yokogawa's technology manufacturing centre.
A digital centre, sponsored by Saudi Aramco and a consortium of three companies, is also being set up to support the advancement of the fourth industrial revolution.
Last year, the city signed an MoU with the National Industrial Development and Logistics Program (NIDLP) to establish an advanced manufacturing institute that will act as a national capability development centre and fuel the adoption of 4IR technologies across four key high-growth sectors in Saudi Arabia: industrial, mining, energy, and logistics.
The non-metallic hub is being created as part of the national oil sustainability strategy and Aramco's non-metallic initiatives to increase the use of carbon-based products.
Spark is complemented by Spark Utilities, a wholly-owned subsidiary and the third utilities company in Saudi Arabia to be granted a licence by the Water & Electricity Regulatory Authority (WERA) to sell and distribute power. Spark's administration building, health clinic and other buildings have been successfully energised by the utility company.
Last month, Spark Utilities signed an operational and maintenance services contract with Miahona, a leading developer and operator of sustainable solutions in water and wastewater projects, to provide convenient and reliable utility services to tenants at Spark.
The energy hub also aims to build a solar farm, with the aim of supplying up to 50 per cent green electricity to tenants by 2026.
Housing
To provide suitable housing facilities for workers within the energy city, Spark last month signed a partnership with Affordable House Company, a subsidiary of Abdullah M Bin Saedan & Sons Real Estate Group (Saedan), to build a residential complex and workers village within the hub.
Spanning a 30,000-sq-m area, the housing complex will offer a wide range of fully furnished long-term accommodation. Phase One of the two-phased project will be ready in 2025, said Spark.
The development will incorporate sustainable construction technologies, smart systems and eco-friendly materials such as green concrete and solar panels. This comes as part of its efforts to minimise Spark's carbon footprint and impact on the environment, in line with the Saudi Green Initiative.
"This partnership reinforces our commitment to create an environment where residents can work, play and live. It will allow tenants to safely lodge their employees in amenities that offer the highest quality of services, elevating the investor experience at Spark," said its President and CEO Engineer Saif Al Qahtani, after signing the deal with Mohammed bin Saedan, board member of Saedan.
The duo also broke ground on a new state-of-the-art workers village following an agreement which they had signed early last year. The workers village will be built in three phases over an area of 110,000 sq m with Phase One set for completion in 2025. The development will have a capacity of more than 8,000 beds and will include a complete range of amenities.
Tenants
To date, Spark has approved more than 40 companies to establish their facilities at the energy hub, with some key tenants being Baker Hughes, Halliburton, Taqa, Emerson, Schlumberger, Yokogawa, GE, Oilfields Supply Company Saudi (OSC) and Photocell. Among other majors are National Petroleum Services Company (Napesco), Target United Energy (TUE), Al-Rushaid Group and Sawafi-Borets. Two of these 40 tenants are already operational, seven are under construction, and many others are set to begin construction in Q1, 2023.
Schlumberger has opened a manufacturing centre at Spark that supports Saudi Aramco's In-Kingdom Total Value Add (IKTVA) programme and will produce various technologies including liner hangers and packers and valve technologies to help improve the efficiency of oil and gas operations.
Yokogawa has launched its technology manufacturing centre at the digital hub and will produce internationally benchmarked analyser systems, transmitters and control systems panel assemblies to meet domestic demand as well as for export to the Middle East and Africa.
Baker Hughes is currently constructing a 300,000-sq-m regional hub that will support operations and customers across the Middle East. The facility is the largest assembly, maintenance and overhaul hub for the company's oilfield services business in the Eastern Province.
Other facilities under construction include those of Halliburton, Aramco Drilling & Workover and Damac. Meanwhile, Emerson, Dussur, Nesr and Saudi Napesco, amongst others, intend to launch work on their facilities in the coming months.
Emerson is expected to break ground this month on its state-of-the-art manufacturing hub which will be one of the company's most significant investments in the Middle East and Africa region.
In June last year, leading Saudi industrial manufacturer Enex Group KSA signed up to develop a power isolator manufacturing centre in the digital hub involving a Phase One investment of $5 million. In August, Mubarak AlSuwaiket and Sons Oil & Gas Services Company (MASO&G) announced that it would invest SR40 million in developing a factory to produce corrosion protection tapes and oil tool equipment, and a service centre.
Incentives
Spark offers a wide range of incentives to investors to set up operations in the energy city including providing developed industrial land, enabling them to progress faster with reduced capex, and A-Z support services to ensure ease of doing business.
Spark Utilities Company provides tenants with access to power, gas, water and wastewater services, all monitored through a smart grid to reduce power consumption.
The hub offers a multitude of options for companies looking to be more sustainable during construction, using sustainable energy and environment-friendly technological solutions, such as Podzolic green concrete, GFRP rebars and ConXtech steel – which was used to construct Spark's new administration building.
The use of precious natural resources is further reduced through extensive drainage systems, sewage treatment plants, and the use of smart solar energy.
This apart, Spark is committed to sustainability and aims to catalyse Saudi Arabia's energy transition and become the first circular carbon economy cluster in the kingdom. The energy park has a target to achieve net zero scope 1 and 2 emissions by 2040, in line with the kingdom's national ambition to reach net zero by 2060 through the Circular Carbon Economy approach.