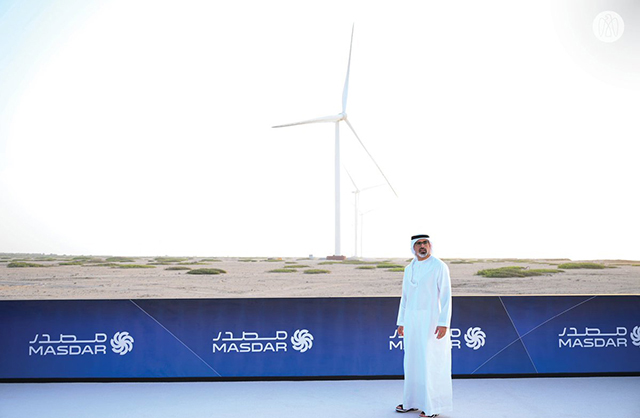 The UAE Wind Program was inaugurated by the Crown Prince of Abu Dhabi.
The UAE Wind Program, a 103.5 megawatt (MW) landmark project developed by Abu Dhabi Future Energy Company (Masdar) was launched last month, marking a new milestone in the UAE's move towards clean energy.
Under the UAE President's directives, the programme was inaugurated by HH Khaled bin Mohamed bin Zayed Al Nahyan, Crown Prince of Abu Dhabi and Chairman of Abu Dhabi Executive Council.
The project demonstrates for the first time the latest technology and innovation to capture low wind speeds at utility scale, adopting advances in material science and aerodynamics to make wind power possible in the country. The project marks the debut of cost-effective, large-scale, utility wind power on the UAE's electricity grid, diversifying the country's energy mix and advancing its energy transition.
The project spans four locations including the picturesque Sir Bani Yas Island, Abu Dhabi, which is home to free-roaming wildlife. A 45 MW capacity wind farm plus 14 MWp (megawatt peak) solar farm has been developed on the island. The other wind farm locations include the historical pearl-diving centre, Delma Island (27MW) in Abu Dhabi, Al Sila, Abu Dhabi (27MW) and Al Halah, Fujairah (4.5MW).
The UAE Wind Program is expected to power over 23,000 UAE homes. It will displace 120,000 tonnes of carbon dioxide, equivalent of removing over 26,000 cars from the road annually. The development underscores the UAE's commitment to tackling climate change as it looks forward to hosting an inclusive COP that focuses on delivering results (see Focus: Net Zero).
The project marks the first time that the UAE has added utility-scale wind power to its energy mix. Energy generated by landmark solar, nuclear and waste-to-energy plants already feeds into the UAE's national grid and earlier last month the country was recognised as a world leader in solar energy use, according to the latest data from The Energy Institute Statistical Review of World Energy.