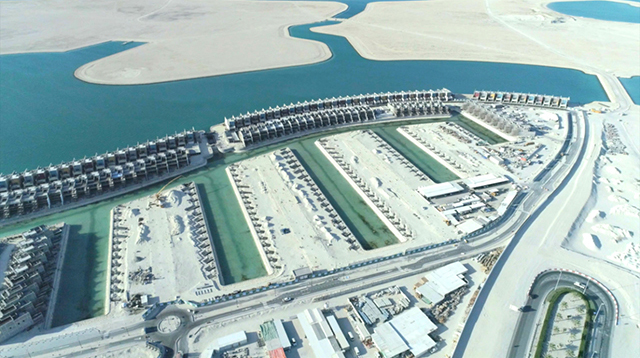 Al Naseem villas ... Phase Three launched.
Diyar Al Muharraq has announced the start of construction on the third and final phase of its Al Naseem villas project. The leading real estate development company in Bahrain also has unveiled two show villas – 'Aseel El Nasayem 2' and 'Layl El Nasayem 2' – which form part of the second phase of the luxurious residential waterfront project.
Phase Three of the project will include 115 modern three- and four-bedroom residential villas overlooking the inner and outer water canals. Each villa, spanning between 305 sq m and 384 sq m, features a number of amenities.
HAJ Quantity Surveyors was appointed as the project manager, with Mohamed Salahuddin Engineers & Architects overseeing the project, in addition to partnering with Ahmed Omer Trading & Contracting to complete the phase. Construction works began in August with an expected completion date in Q2 of 2025.
Al Naseem luxurious residential community is located in the Southern Island of Diyar Al Muharraq, an iconic man-made island development off the coast of Muharraq.
The second phase of the Al Naseem community, which comprises 114 three- and four-bedroom villas, is being built by Ahmed Omer Trading & Contracting and is scheduled to be completed by the end of this year, Eng Ahmed Ali Alammadi, Chief Executive Officer of Diyar Al Muharraq, told Gulf Construction at the official opening ceremony for the show villas.
"Al Naseem community comprises around 300 villas, around 1,000 apartments and retail facilities, as well as a corniche and a 100-berth marina, which are being built at a total investment of $500 million," Eng Alammadi said.
"We have split the project into three phases. Phase One has been handed over and people have moved into their homes. We're expecting to deliver Phase Two before the year-end; and Phase Three, we're expecting to handover by the end of 2024 or early 2025," he stated.
The prices of the villas range from BD200,000 to around BD300,000 ($527,510 to $790,730) depending on the location and size and type of villas, he added.
Phase One comprised 73 villas, while the second and third phases will offer 114 and 115 villas respectively.