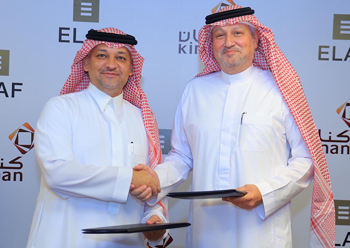 Officials of Elaf and Kinan sign the agreement.
Elaf Group, a pioneer in the hospitality sector, has signed an MoU with Kinan International Real Estate Development for the management as well as supervision of the design work for an upcoming hotel project within the Aliat Mall in Madinah.
The mall also includes an area for modern retail stores, restaurants and a cinema, in addition to the hotel, said Elaf Group.
The agreement worth AED220 million ($60 million) is for the implementation of a facility with 230 rooms and suites in line with the highest standards set out by the Ministry of Tourism, as well as the taste of the visiting pilgrims to Madinah. The project is targeted for completion in Q1 of 2025.
With six residential projects in Riyadh and Jeddah on an area of more than 6 million sq m, Kinan is one of the top Saudi-based companies in the field of development and management of residential communities and malls in Saudi Arabia. It also operates 10 commercial centres across six different cities in Saudi Arabia.