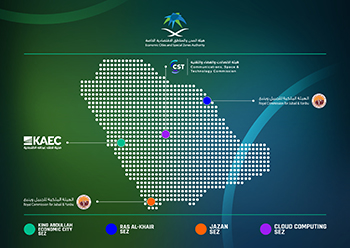 Saudi Arabia has launched four new Special Economic Zones (SEZs) focused on key growth sectors, including advanced manufacturing, cloud computing and medical technology.
The new zones include the King Abdullah Economic City (KAEC) SEZ, Jazan SEZ, Ras Al Khair SEZ and Cloud Computing SEZ located in King Abdulaziz City for Science and Technology (KACST).
KAEC SEZ is premier destination for advanced manufacturing and logistics. Its anchor investor Lucid, a leader in the global EV industry, will produce 150,000 EVs. Jazan SEZ provides opportunities for the manufacturing, processing and distribution of food products; Ras Al-Khair SEZ is a fully integrated marine ecosystem; and Cloud Computing SEZ will serve as a hub for emerging and disruptive technologies.