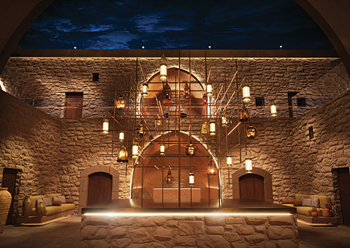 The Chedi Hegra will be built directly into several existing structures.
Royal Commission for AlUla (RCU) has partnered with luxury hotel operator General Hotel Management (GHM) to develop The Chedi Hegra in the ancient Nabataean site in north-west Saudi Arabia.
Situated within the kingdom's first Unesco World Heritage Site and targeted to open by Q4 2023, The Chedi Hegra will offer 35 bespoke guest rooms, each with its own distinct connection to the Hegra landscape.
RCU is building the hotel directly into several existing structures, including an old railway station and surrounding buildings, Hegra Fort, and others. Structural and exterior walls, some with historical mud-brick construction, are being preserved and integrated with modern architecture.
The vast majority of the Unesco World Heritage Site will remain untouched by construction and carefully preserved by RCU to maintain the integrity of Hegra's incredible human and natural heritage.
RCU has also ensured all design and construction efforts align with the Sustainability Charter for AlUla, including a light-touch tourism approach, imaginative infrastructure, planting of native flora, and an all-electric mobility system. Where possible, the project will use local construction materials and work with local businesses and labour.
The property will feature three fine-dining restaurants, a café, and a full-service spa and pool, with many of the buildings connected by an overhead art canopy focused on wind movement and natural light.
The on-site restaurants will each offer unique experiences for hotel guests and others visiting Hegra. One of the restaurants inside the old railway station will feature an exhibition of carefully preserved artefacts, including a fully-restored train, while another will sit within the Hegra Fort, and a third will feature unobstructed views from a sunken water basin seating area.