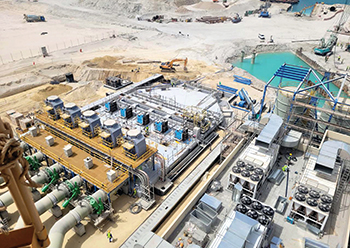 Jubail 3A, the largest RO desalination plant in Saudi Arabia.
Spanish infrastructure group Abengoa has announced that it has reached the commercial operation phase at the Jubail 3A desalination plant, located in the Eastern Province.
The group has now transferred the facility to Nomac, the operation and maintenance unit of Acwa Power, the leading company in the development, investment, ownership and operation of power generation and desalinated water production plants.
This comes after the plant successfully passed all the necessary contractual tests led by Abengoa and Acwa Power's Jazlah Water Desalination Company obtained the commercial operation certificate last month, it stated.
Jubail 3A has a total capacity of 600,000 cu m per day, thus becoming the largest reverse osmosis desalination plant in commercial operation in Saudi Arabia together with Rabigh-3, also developed by Abengoa.
Jubail 3A will be the first and largest desalination plant in the world to be partially powered by renewable energy generated by a solar photovoltaic plant (45.5 MWp) as part of Saudi 2030 vision to reduce carbon emissions globally, said the Spanish group.
Thus, the plant will produce drinking water in a sustainable and efficient way, being the first Independent Water Project (IWP) in Saudi Arabia on a commercial scale, it added.