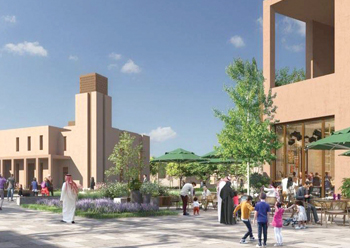 The Riyadh community will spread across a 20-million-sq-m area.
Roshn, a leading Saudi real estate developer powered by the Public Investment Fund (PIF), has awarded contracts worth SR1.6 billion ($427 million) for its flagship community project in Riyadh featuring over 30,000 homes.
Leading Saudi contractor Rezaik Abdallah Al-Gedrawy and Company has been signed up to develop a part of the 4,000 homes in the community within the first phase of the project, coming up in the north of the capital city.
The additional partners include Zuheir Ahmad Zahran and Company, Al Akaria Hanmi, Posco E&C, AWJ International and C1 Company Building, who will be involved in other critical areas of construction including soil grading, sales and experience centre, site supervision, said the Saudi developer.
Roshn's Riyadh Community forms part of the developer's wider 10-year strategy to contribute to the rapidly increasing demand for housing across the kingdom.
Roshn's Group CEO David Grover said: "These are the first set of many important partnerships to come that will play a crucial role in enabling us to fulfil our national mandate to support the government's efforts to increase the rate of home ownership to 70 per cent by 2030. We will work together to further advance the nation's construction sector."
On the contract win, Rezaik CEO Salem Abdulaziz Alsudais said: "Rezaik Abdallah Al Gedrawy and Company is delighted to be selected as a valued partner of Roshn. We look forward to working with them to provide real value to the nation's people."
Spread across a 20-million-sq-m area, the Riyadh community is located south of King Khalid Airport and close to the city's main attractions, key highways and transportation links. In addition to the over 30,000 contemporary homes that fuse modern design with the capital's rich heritage, the communities will include mosques, retail and food and beverage outlets, parks, schools and leisure and entertainment facilities.
Off-plan homes will be available for sale during the first half of 2021.
According to Grover, the architectural design of the community has been carefully considered to reflect the best of modern living whilst celebrating Saudi Arabia's rich culture and heritage.