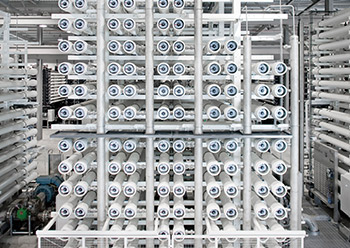 Shuqaiq 1 will be a RO plant with a capacity of 400,000 cu m per day.
Spanish infrastructure major Acciona, said it has secured a $384-million contract from Saline Water Conversion Corporation (SWCC) for its fifth desalination project, Shuqaiq 1 desalination plant in Saudi Arabia, in partnership with Al Rashid Trading and Contracting Company (RTCC).
The plant located on the Red Sea coast is equipped with reverse osmosis technology and will have a capacity of 400,000 cu m per day. It will help improve the supply of drinking water and offset water shortages in south-west Saudi Arabia by providing a new source of potable water.
A leading supplier of sustainable infrastructure solutions and renewable energy projects, Acciona said the project's scope includes marine and civil works on the plant, the supply and installation of electromechanical and electrical equipment, start-up and pre- and post-treatment systems and commissioning.
The facility, which is expected to be completed in 2023, is Acciona's fifth desalination plant built in the country and the third awarded to the company by SWCC.
Overall, once replacement of Shuqaiq 1 is completed, around 1.8 million cu m per day of desalinated water will be supplied by Acciona in Saudi Arabia all through reverse osmosis, consolidating this desalination technology as the most efficient and sustainable with the smallest carbon footprint.
Last year, Acciona won a $530-million design, construction, operation and maintenance contract of the Shuqaiq3 desalination plant for a 25-year period. It is currently under construction and is expected to be completed this year, after which Acciona will head the joint venture that will operate and maintain the plant.
Acciona has also recently secured a turnkey contract worth $499 million for the Al Khobar RO2 plant, located on the east coast of the country around 400 km from the capital Riyadh. This plant's daily capacity will be slightly over 630,000 cu m per day, making it one of the biggest in the country and the largest in the world using reverse osmosis technology built under the EPC modality in a single phase.