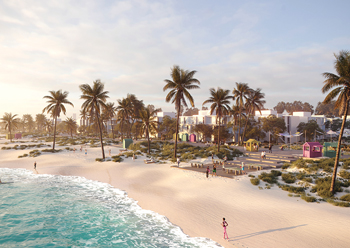 The 1.5-million-sq-m Coastal Village ... AlKifah Contracting to provide EPC services for the development of the community.
Saudi-based Red Sea Development Company (TRSDC), the developer behind the world's most ambitious regenerative tourism project, awarded a significant number of contracts over the past month, fast-tracking work on Saudi Arabia's flagship international tourism destination.
Among the key deals, Aecom, a global infrastructure company with a major presence in the GCC, has been signed up to provide the airside construction supervision and quality control services for a new international airport coming up within the destination. Designed by Foster + Partners, the Red Sea Project airport will be capable of serving one million domestic and international passengers per year when it opens in 2022.
Work is set to commence this month (January), following the completion of essential groundwork, said Aecom.
Conforming with TRSDC's sustainability goals, the entire airport infrastructure will be powered by renewable energy, the first of its kind in the country.
Aecom's scope includes the oversight of the airside infrastructure construction, the design and building of a 3,700-m 'Code F' runway, a 'Code B' seaplane runway, parallel and link taxiways and pavement works, aeronautical navigational aids, aerodrome ground lighting, airside utilities, helipads, roads and associated buildings.
The developer has also awarded a major engineering, procurement and construction (EPC) services contract for the Red Sea Project's Coastal Village community development.
TRSDC said the contract, one of the group's largest value deals to date, has been secured by Saudi group AlKifah Contracting after a competitive tendering process.
Envisaged as a vibrant community and set in a prime location on the waterfront, the 1.5-million-sq-m Coastal Village includes management offices, villas, townhouses and apartments, and a 144-room hotel.
Once completed, it will offer a range of amenities like hospitals and schools, and leisure facilities including fitness centres, beach clubs and dining outlets.
The new apartment buildings will consist of 40 blocks of single and double occupancy units which will come up at Coastal Village, a new town which will eventually become home to the 14,000 employees who will operate the destination when it opens its doors by the end of 2022.
As per the deal, AlKifah will use precast concrete panels, prepared at a new dedicated precast manufacturing facility being built at the project site. This will help localise jobs and greatly reduce the site's carbon footprint by avoiding 10 million km of transportation, which will reduce 10,000 tonnes of carbon dioxide emissions.
On the new contracts, CEO John Pagano said: "People are at the heart of this project and the Coastal Village will become the central hub for employees to live, work and relax. Designed around the latest concepts in co-working and community living, it will become a vibrant neighbourhood for residents, plus their family members and visitors."
"The beauty of this agreement is that all 40 of the residential apartment buildings will utilise elements of off-site manufacturing and prefabrication techniques," he explained. "These approaches enhance efficiency, quality and safety, while reducing the number of construction workers needed on-site to minimise our environmental footprint during construction."
In addition to manufacturing off-site, TRSDC uses eco-friendly, sustainable 'green' concrete on-site in order to minimise emissions throughout the construction process.
On the contract win, AlKifah Contracting Company Chairman Osama AlAfaleq said: "These apartment buildings will combine an eco-friendly design with a high-quality finish, supporting The Red Sea Project's ambition to become a premier tourist destination, which will have a net-conservation benefit on the natural environment."
"With the destination set to begin welcoming guests in less than two years, the efficient delivery of these units is key to guaranteeing that comfortable homes are available to the employees needed to operate the destination. Our approach to using off-site manufacturing will ensure we meet the tight timelines ahead of us," he added.
Meanwhile, TRSDC has appointed two local firms – Red Sea International and the Facilities Management Company (FMCO) – to provide all maintenance, security, catering, administrative and laundry services at the Construction Village.
The two companies will each be responsible for the accommodation of up to 5,000 construction workers and ensuring the facility is managed in adherence to the highest living standards for all workers, whether employed directly by TRSDC or by contractors.
A dedicated 24/7 helpdesk will also be in operation for workers staying at the village, stated the Saudi developer.
"Our Construction Village is an important element of the Phase One development. In order to continue with the rate of progress we've seen to date, we must first and foremost ensure that our workers are healthy, happy and safe," remarked Pagano.
Accommodation exceeds International Finance Corporation (IFC) guidelines, ensuring residential buildings and facilities are both comfortable and safe. Rooms in the village are equipped with partitions between beds for privacy, bathrooms and showers in the same building, personal safes for belongings and Wi-Fi coverage in all areas will allow workers to stay in touch with family and friends, he noted.
As per the deal, Red Sea International and FMCO will also play an important role in creating a sense of community in the village, managing the neighbourhoods formed between the living and recreational areas. Workers can enjoy the use of cricket pitches, volleyball and basketball courts, football pitches, gyms and cinemas. A supermarket and barber shop will also be provided on-site for workers to use.
Among other key appointments, TRSDC has awarded a contract to global engineering firm Mott MacDonald to provide consultancy services to determine the optimal sustainable vehicle and fleet configuration at the destination.
As per the deal, Mott MacDonald will deliver a comprehensive and robust analysis of the total land, sea and air transport needs for the development and operation of the 28,000-sq-km site, from its opening in 2022 to its completion in 2030. This will involve a strategy for destination-wide clean mobility using electric and hydrogen vehicles, boats and aircrafts.
On the contract, Pagano said: "We believe that environmental regeneration and commercial development do not have to be mutually exclusive. Our destination is one of extraordinary natural beauty, which we have a responsibility to protect and enhance for future generations."
"We're looking forward to working with Mott MacDonald, who are well aligned with our strong sustainability ambitions to deliver a green mobility plan and will support us with our commitment to become a carbon neutral destination," he added.
The company will also be required to identify the most appropriate supporting infrastructure, such as electric and hydrogen vehicle charging stations, in line with TRSDC's ambitions to power the destination with 100 per cent renewable energy.
According to Pagano, the appointment is a key development in the roll out of Phase One, which is well under way.
Vehicle fleet to be assessed includes e-bikes, golf buggies, cars, vans, trucks, buses, seaplanes, helicopters, vertical take-off and landing (VTOL) aircraft, passenger ferries, boats, maintenance vehicles, airside vehicles and even off-road leisure pursuit vehicles.
Mott MacDonald will also propose the best fleet propulsion systems from a range of available sustainable options.