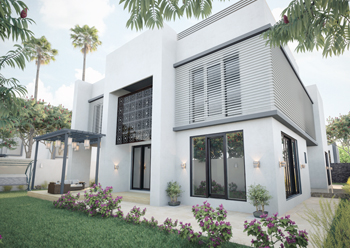 Al Dhahia is a semi-gated mixed-use complex featuring 557 homes as well as amenities integrated into one community.
Leading Saudi developer Al Akaria said it has signed a partnership agreement with National Housing Company, the investment arm of the Saudi Ministry of Housing, to help boost ownership among Saudi nationals.
As per the deal, the ministry's beneficiaries will get an opportunity to own residences within its 557-unit Al Dhahia project being developed over a 430,300-sq-m area in east Riyadh, said the company in its filing to Saudi bourse Tadawul.
Located in Rimal district of the Saudi capital. Al Dhahia project is a semi-gated residential and commercial complex that brings a new style of integrated living to Riyadh by offering residential units, commercial space as well as retail and leisure amenities integrated into one community. The project is expected to be completed during the second quarter of 2021.
Al Akaria had last year collaborated with Arabian Dream, principally owned by Triple Five Worldwide, to develop the world's largest mixed-use entertainment and shopping centre development of its kind at Akaria's Al Widyan site in Riyadh.
Triple Five Worldwide is the owner and developer of the three biggest retail and entertainment centres in North America – Mall of America, American Dream and West Edmonton Mall, said the statement from Al Akaria.
The new destination, which is estimated to cost $5 billion will boast major theme parks, water parks, recreational and sports facilities, retail dining, shopping centres and hospitality components, coupled with the latest artificial intelligence (AI) technology to create a unique experience for all its visitors, it added.