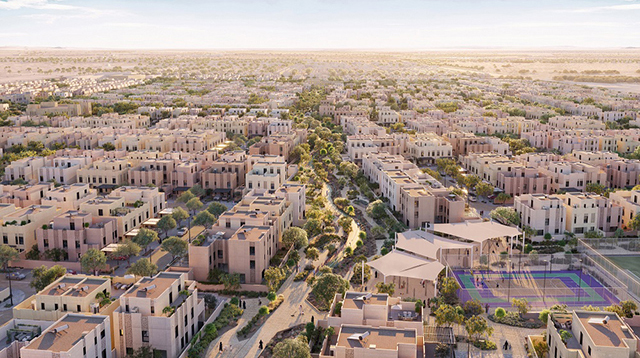 Warefa, a mixed-use community project in Riyadh, will cover an area of 1.4 million sq m.
Roshn Group, a PIF-backed Saudi giga project and a leader in real estate development, has broken ground at Warefa, a mixed-use community project in Riyadh, marking another significant milestone in the group's journey to redefine urban living. It has also launched sales for the residential community.
Building on the success of Roshn's flagship Sedra development, Warefa will offer Saudi residents high-quality, integrated living in the rapidly developing district of Al Janadriyyah.
To support Warefa community and facilitate property ownership, Roshn has inaugurated a dedicated sales centre, located in the eastern part of Riyadh, within the Warefa community. It features a detailed model of the project and various interactive technologies to showcase the community, units, and facilities.
Warefa will offer 1,609 units in the first phase of the project, varying between villas, townhouses, and duplexes, all supported by Roshn's mix of civic amenities and attractive public spaces.
Warefa brings Roshn's signature mix of life-enhancing amenities within walking distance of every home, including smart mobility options, attractive public areas and green spaces that support healthy, fulfilling lifestyles. Amenities include public and private schools, a health centre, a district mall, neighbourhood commercial areas, retail outlets and restaurants.
Covering an area of 1.4 million sq m, Warefa is designed to support social interaction through neighbourhood mosques, sports hubs, cycle lanes, homes built without perimeter walls, and 11 per cent of the total development dedicated to open and green spaces. Developed over six vibrant neighbourhoods, Warefa's more than 2,300 units will be home to over 13,000 residents, helping to create a vibrant new quarter in eastern Riyadh.
With a focus on villas and street-level family dwellings, Warefa's eight different floorplan options and designs inspired by local heritage and tradition offer distinctive homes tailored to the growing needs of every family – from four-bedroom townhouses to five-bedroom villas. Inspired by the Salmani architectural movement, Warefa community facades will combine traditional local forms with modern styles, materials, and engineering.