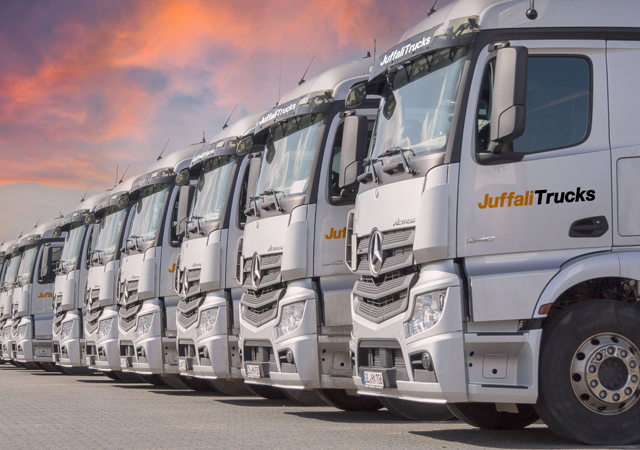 JuffaliTrucks, a subsidiary of Juffali Commercial Vehicles (JCV) specialising in pre-owned trucks, trailers and applications, has expanded its service scope significantly since its launch five years ago, now offering a broad range of solutions across the Central, Eastern and Western regions of Saudi Arabia.
The company embarked on its journey in 2018 by importing used Mercedes-Benz Trucks from Europe and facilitating exchange of old fleets for newer ones from its portfolio.
JuffaliTrucks Director Mohammed Alwardat explained: "2018 marked the establishment of our pre-owned trucks company. Additionally, we replace used trucks of all brands from our customers' fleets with brand-new Mercedes-Benz and Fuso trucks. We have unwavering faith in our group's ability to exceed customer expectations. JuffaliTrucks operates as a united team, working tirelessly to ensure the highest levels of customer satisfaction."
JuffaliTrucks solutions embody a 100 per cent passion-driven commitment to delivering unparalleled excellence, he added. The company firmly believes that genuine success comes from the heart, and its dedication to customer satisfaction is at the core of everything it offers.
"At JuffaliTrucks, our mission is to continually exceed expectations, offering commercial vehicle solutions and a partnership focused on trust, innovation, and customer-centricity," said Heiko Schulze, CEO of Juffali Commercial Vehicles.
Underpinning the success of its solutions are the following features:
• Warranty: Choosing a used truck saves money but may lead to costly repairs. Therefore, a used truck warranty provides a safety net, offering peace of mind and financial security, Alwardat pointed out. The warranty covers repair costs or provides a replacement vehicle for significant issues like engine, pistons, turbos, after-treatment or transmission problems. While it involves an initial investment, a single major repair can make it cost-effective. This warranty is vital for those heavily reliant on their trucks for work. With the right warranty and proper care, clients can enjoy a dependable used truck without worrying about expensive repairs, he added.
• Truck purchase: JuffaliTrucks redefines the truck buying process by not just helping its clients find and buy a suitable truck but also offering fair prices when they want to sell their vehicle. Its expert team quickly evaluates the used truck and makes a reasonable offer.
• Financial services: JuffaliTrucks makes it easy to own one of its exceptional used trucks with various financing options and special offers. The company is committed to helping customers find the financial solution that best meets their unique ownership needs.
• Buy-back: "Wouldn't knowing the resale value of your commercial vehicle at the point of purchase be helpful? That's precisely what our buy-back service offers," Alwardat remarked. It provides customers with the insight needed to make an informed investment decision, ensuring the truck purchase aligns with its long-term financial goals.
• Trade-In: JuffaliTrucks' trade-in option goes beyond a straightforward vehicle swap. The company enables the client to maximise its investment by deducting the value of its existing truck when acquiring a new one. This ensures that the client's transition not only its meets, but exceeds its value expectations.
• Export: JuffaliTrucks makes it seamless for clients to take their trucks to international markets. The company's dedicated export services handle all procedures and formalities, ensuring a smooth transition to the global stage.
"Our commitment to excellence drives everything we do, from the solutions we offer to our dedication to client satisfaction. This sets us apart," Alwardat concluded.