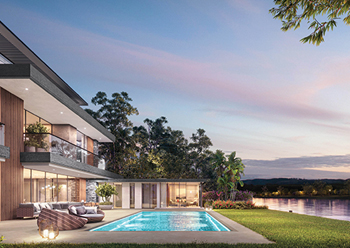 Jinan Island comprises 43 five- and six-bedroom luxury villas.
Oman's leading integrated tourism complex Al Mouj Muscat has launched Jinan Island, a private collection of 43 five- and six-bedroom luxury villas which, surrounded by a lake and centred around lush parkland, offers a serene lifestyle in the capital Muscat.
Al Mouj Muscat is a joint venture partnership between Omran, Tanmia and Majid Al Futtaim which is redefining urban living in the region.
Located at the heart of the Oman's premier oceanfront lifestyle destination, Jinan Island comprises 18 six-bedroom Alaya Villas, all grand in scale at around 906 sq m and overlooking the lake. Set over three floors, the villas have an elevator and a stunning top-floor penthouse suite plus covered parking for up to four cars. Unique to Alaya is a separate Zen Garden Suite which, set overlooking the pool, can be used as an entertainment, exercise or work space, stated the Omani group.
In addition, there are eight Ayana style homes, also with six bedrooms and set over two floors with sublime lake views. Comprising over 606 sq m of space, the villas' amenities include a gym, parking for up to three cars plus driver's accommodation.
Overlooking the island's verdantly landscaped central park are 17 five-bedroom Amara Villas each offering over 455 sq m of space plus parking for up to three cars and driver's accommodation.
Jinan Island villas are exceptional homes that inspire the senses and offer a new dimension in exclusivity, said the developer. These elegant lake and park-side retreats presents families with a chance to feel connected to nature yet with the freedom to embrace an abundance of leisure amenities close by, it stated.
Al Mouj Muscat said the residents-only neighbourhood is an oasis of calm with three different styles of villa each a balance of contemporary luxury, style and comfort and a splendid union of indoor and outdoor living.
All are superbly appointed with grand entrances, floor-to-ceiling windows, walk-in wardrobes, guest suites, offices, spa-style ensuite bathrooms, swimming pools and garages, two kitchens and staff accommodation, it added.