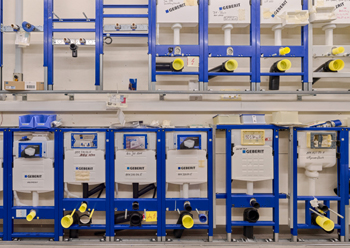 Geberit's cistern models exhibit room in Pfullendorf, Germany.
Swiss sanitary solutions provider Geberit now guarantees 50 years of spare parts reliability for all replaceable mechanical parts of the concealed cistern (such as the flush or fill valve), including the actuator plate, thereby extending the previous spare parts guarantee of 25 years.
"We are one of the few European sanitary manufacturers that has been producing all parts of the concealed cistern itself for over 50 years," emphasises Thomas Kiffmeyer, Head of the Installation Systems product line. "That's why we can guarantee the availability of spare parts with a clear conscience. Our older models can be easily upgraded and their individual parts are easy to repair or replace."
Guaranteeing spare parts availability for half a century is a big promise, but behind this is a corresponding stock of cistern models and components from the last 50 years – and, above all, professional know-how, says the company.
"These professionals can be found, among other places, in the Geberit consulting centre in Pfullendorf in southern Germany; 14 people work here, all trained plumbers, master sanitary engineers and fire protection experts. They take 50 to 80 calls - per day, per person. In addition, there are enquiries by e-mail and chat – about various concerns and sanitary-technical questions. That makes up to 1,000 enquiries per day. It is the largest Geberit advice centre for sanitary specialists, Kiffmeyer points out.
Jürgen Greiner, master sanitary engineer, has been advising customers since 2010. "There are models, such as the UP 130, that I know inside out, including the article numbers," he says with a smile. Equipped with a headset, he looks for solutions to the respective problem together with his customers directly at the cistern model in the exhibit room.
"Sometimes the explanation is easier if you carry out the actions at the same time as the customer," he explains.
Geberit WC flushing systems are designed for decades of use and highlight the quality as well as the company's contribution to the sustainable use of natural resources. Thanks to the backwards compatibility of the continuously optimised components, the cistern can also always be brought up to an updated technical standard – a plus for the environment as well as for customers.
About half of all enquiries concern older vintages. "It is a pleasure to see that our products have been in operation for so long," says Greiner. "That's quality."
But it's far from just about spare parts. Questions about standards that have changed over the decades, or about fire and sound protection, are just as frequently answered by the customer advisors in Pfullendorf. That's why the team includes experts in various fields. "We not only ensure the availability of spare parts, but also guarantee professional competence," he says.