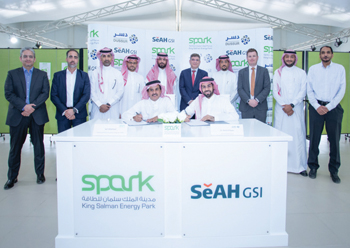 Seah Gulf Special Steel and Spark official sign the land lease agreement.
Seah Gulf Special Steel said it has sealed two agreements for its new steel pipe factory in Dammam being built at an investment of more than SR1 billion ($266.3 million) – an engineering, procurement, and construction (EPC) contract with Saudi-based Sendan International Company for its construction and a land lease agreement with King Salman Energy City (Spark).
Seah Gulf Special Steel is a joint venture between Saudi industrial investments company Dussur and Korean group SeAH Changwon Integrated Special Steel Corporation.
Announcing this at the signing ceremony, Dussur said it had awarded EPC contract worth $69.2 million to Sendan International Company, a leading Saudi-based construction group, for the construction of the new steel factory. As per the deal, the entire project will be completed in 34 months and the commercial operation of the factory will begin by 2025, said Dussur, a major industrial group in the region, owned by the Saudi sovereign wealth fund Public Investment Fund (PIF), state oil giant Aramco and global diversified chemicals company Sabic.
Also at the ceremony, Dussur inked an industrial land allocation agreement with Spark for the establishment of its new steel pipe factory. Under this, the Saudi energy park will allocate SeAH Gulf Special Steel a land area of 177,845 sq m to build the factory, which, once operational, will have a production capacity of 20,000 tonnes per year.