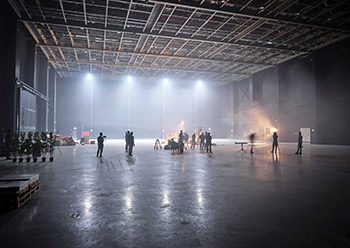 The Media Village and Bajdah Desert Studios encompass full production support facilities and 350 serviced accommodation units.
Saudi Arabia's futuristic $500-billion city Neom has announced the formal operational opening of Neom Media Village and Bajdah Desert Studios, which together comprise the country's largest sound stages and film production support facilities, having supported some 25 productions over the course of the last 18 months.
Neom Media Village currently features one 2,400-sq-m state-of-the-art sound stage, complete with back-of-house facilities comprising make-up rooms, green rooms and production offices, with three further stages under construction.
Built to accommodate the immediate and growing demand from regional and international producers for state-of-the-art TV and film facilities, the first three sound stages across the two locations are already operational. A further seven, including a high-tech volumetric production stage, are set to open by Q1 2023, said Neom.
On the Bajdah Desert Studios, Neom said it boasts two 3,000-sq-m sound stages, with a further four scheduled to come online by the year-end. All the studios will be home to world-class production facilities, including set production offices, construction warehouses, prop shops, wardrobe, SFX facilities and backlot space to support complex set builds, it stated.
Film and ancillary equipment including cameras; grip and lighting; shotover; heavy-lift drones, telehandlers, boom lifts, scissor lifts and trackway are available on both sites.
The production facilities will also offer a total of 350 dedicated accommodation units for cast and crew, supported by lifestyle facilities, it added.
"Clearly production incentives play a vital role in attracting productions but are best leveraged when the entire package is in place: infrastructure, on-the-ground international production expertise, crew depth and ease of doing business," remarked Wayne Borg, Managing Director for Media Industries, Entertainment and Culture at Neom. "Neom is now in the position to offer this competitive package. This is an important milestone in realising our aim of becoming the epicentre of the regional media industry."