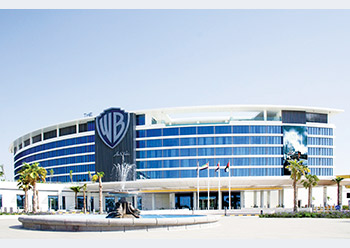 WB Abu Dhabi ... now complete.
The world's first Warner Bros hotel is set to open on Yas Island in Abu Dhabi, UAE, this month (November 11).
The new WB Abu Dhabi hotel is a collaborative venture between Miral, Abu Dhabi's leading curator of magnetic experiences and Warner Bros, home to one of the most well-known and successful collections of brands and characters in the world, and will be operated by Hilton under the Curio Collection brand.
With a design and concept inspired by the Warner Bros brand, the hotel has been developed with a total investment of $112 million and features 257 rooms over eight levels, with a modern décor that celebrates Warner Bros' extensive film and television library. The property's contemporary design will also include signature WB themed restaurants, a premier spa and fitness club, and a shaded rooftop pool where guests can take in Yas Island's distinctive skyline.
Featuring one of the finest collections of Warner Bros archives, guests at the hotel will be treated to a journey of discovery through film and television, enjoying Warner Bros' rich history and library of timeless productions at every touchpoint from arrival to check-out.
Guests of The WB Abu Dhabi hotel begin their story as they pull up to the hotel and are greeted by digital screens that span the height of the building, playing original content created for the hotel. Before entering, the hotel visitors won't want to miss the iconic "Friends" fountain and will then enter the lobby and be drawn to the hotel's uniquely designed lobby columns. As guests continue their journey, the storytelling experience is further enriched with guest room corridors displaying a curated gallery of artwork.
Each of the hotel's 257 rooms is furnished with touches that tie to the legacy of rich storytelling that makes Warner Bros unique. The hotel has five dining options. Craft Services, located in the lobby lounge, offers a relaxing coffee break, while Sidekicks provides a place for socialising and interacting. For those lounging by the pool in cabanas and sunbeds, The Matinee provides a casual dining option, while The Director's Club offers an elegant dining experience and The Overlook lounge provides 360-degree view of the city, adjacent Warner Bros theme park and sea views.