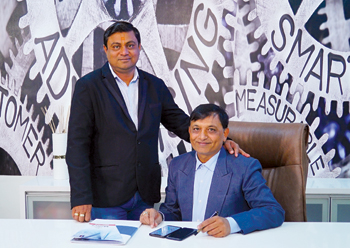 Bhupatray and Detroja ... driving business growth.
Escon Express Lifts' ability to offer custom-tailored and energy-efficient solutions that conform to strict quality standards and its wide product portfolio give it a competitive edge in meeting the requirements of the luxury end of the market, says a top official of the Bahrain-based company.
"Escon Express Lifts is backed by 25 years of experience in this industry," says Ramprasath Parthasarathi, Chairman and Managing Director. "We supply quality lifts as per the project requirements and offer a choice of elevators and special-purpose lifts. Our custom-tailored solutions are backed by efficient service and technical support that gives us an edge in the market. Our strength is our world-class technology, cost-effective process, strict quality parameters and extensive experience in this industry."
Escon Express Lifts' key products include hydraulic and manual lifts, goods/car elevators with a capacity of up to 10,000 kg, machine-room less (MRLs), auto door lifts that travel at speeds of up to 2.5 m per second (mps), panoramic/glass lifts, hospital lifts (stretcher lifts) in all capacities and automatic luxury elevators.
Its passenger range comprises manual as well as automatic elevators that can accommodate up to 26 passengers and travel at speeds of up to 4.5 mps.
The company's home elevators increase the value of the home, while allowing the disabled and the elderly to easily move through a multi-level dwelling, Ramprasath points out.
The company offers a vast range of functional and visually appealing designs created by its design professionals and built using innovative materials and accessories. "Our lifts are distinguished by being quiet as well as smooth and quick in operation and have a unique car structure," he adds.
According to Ramprasath, space is a major constraint for the hospitality and luxury villas sector. To address this issue, Escon Express Lifts provides customised lifts according to the space available in villas, high-rise buildings, hotels or restaurants.
"We design our cabins and doors according to the requirements by using the latest technology. Our lifts are designed with an energy-saving integrated control panel, anti-nuisance protection suitable up to 4 mps pulse with modulation, traffic control system, group communication, fake call cancellation, advance opening ARD (automatic rescue device) and our products are designed to serve up to 64 floors," he explains.
Set up in Bahrain in 2018 as a joint venture by Express Lifts India – one of the top 10 lift manufacturers in India, the company has supplied its lifts for several villas and high-rise buildings in a number of areas of the kingdom, including Tubli, Amwaj, Samaheej and Sitra, as well as in Saudi Arabia.
Most of these lifts feature designer cabins produced using the latest CNC machines to ensure the quality of its products.
Among its ongoing projects is Masaya, a Spanish restaurant located in Adliya, work on which is expected to be finished by the end of this year.
Its more challenging projects includes the recently completed Matam Charity project in Bahrain. "We have provided customised lifts as per the requirements of the client. It was a very critical site, involving a low pit, with opposite opening doors and low overhead height. We took care of all issues and we completed the project to the client's satisfaction," Ramprasath says.
The company recently launched its car stacker lifts for which it has been receiving a lot of enquiries and has also bagged a few orders. These hydraulically-operated car stacker parking systems for two cars are designed for indoor and outdoor installations.
Escon Express Lifts is trying to increase market awareness of this product which, it believes, has great potential in the market.
While business levels have been steady over 2020 and 2021, Ramprasath expects the pace to pick up this quarter.
The Bahrain operation serves as Escon Express Lifts' Middle East office and the company is actively seeking opportunities in the regional market, especially in Saudi Arabia and Kuwait, Ramprasath says.
Thanks to the manufacturing capacity of its India-based parent firm, Escon Express Lifts ensures quick delivery with a maximum lead time of two months and provides round-the-clock back-up service.
Express Lifts India, which was founded in 1995 in Ahmedabad, has a manufacturing capacity of 1,500 lifts per year and has to date installed more than 35,000 elevators, says Bhupatray, Director at Express Lifts India.
The company has 11 branches in India and four overseas branches in Bahrain, Saudi Arabia, Kenya and Nepal.
"To meet the demand for its products, Express Lifts India is currently setting up a larger factory in India covering 20,000 sq m and featuring a testing tower of 30 m with facilities for testing hydraulic and MRL lifts of up to 4 mps," says Vasanth Detroja, Director at Express Lifts India.