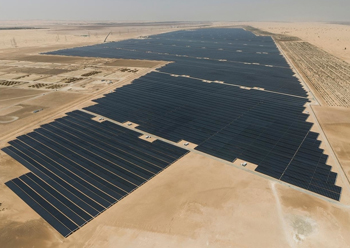 Noor Abu Dhabi is currently the world's largest operating single-site solar project.
Abu Dhabi National Energy Company (Taqa) has announced the successful financial closing of the Al Dhafra Solar Photovoltaic (PV) Independent Power Producer (IPP) project in co-ordination with key partners – Abu Dhabi Future Energy Company (Masdar), EDF Renewables and JinkoPower.
The record-breaking project, located approximately 35 km from Abu Dhabi city, will have a capacity of 2 gigawatts (GW) and will supply power to Emirates Water and Electricity Company (Ewec).
Once operational, the Al Dhafra Solar PV IPP will be the world's largest single-site solar power plant, using approximately four million solar panels to generate enough electricity for approximately 160,000 homes across the UAE.
Financing for the project will come from seven international banks, following the signing of the power purchase agreement in July.
Early last year, the competitive bidding for the project led to one of the most competitive tariffs for solar power, set at 4.97 fils/kWh ($1.35 US cents/kWh), which upon financial closing, was further improved to 4.85 fils/kWh ($1.32 US cents/kWh), primarily driven by hedging and financing cost improvements, in addition to other optimisation efforts.
As per the deal, Taqa will own 40 per cent of the Al Dhafra project, while Masdar, EDF Renewables and JinkoPower will each have a 20 per cent stake.
The plant will deploy the latest in crystalline, bifacial solar technology, which will enable the plant to provide more efficient electricity by capturing solar irradiation from both the front and backside of the panel.
Upon full commercial operation, the plant is expected to reduce Abu Dhabi's carbon dioxide emissions by more than 2.4 million tonnes per year, equivalent to removing approximately 470,000 cars from the road.