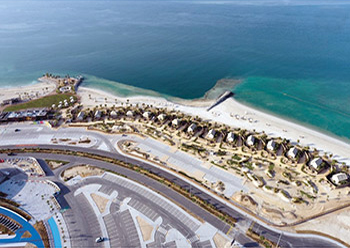 Hudayriyat Leisure and Entertainment District ... a project for Modon Properties.
GHD, one of the world's leading professional services companies, said it has completed work on Hudayriyat Leisure and Entertainment District, a key waterfront community project in Abu Dhabi.
The scheme was developed by Modon Properties, with whom GHD has a successful working relationship, having previously supported the developer on the Jubail Mangrove Park in Abu Dhabi.
Over a 24-month period, GHD worked closely with Modon to deliver a number of design, architecture, project management and construction supervision services across the various different sections of Hudayriyat Leisure and Entertainment District, located within the 3,000-hectare Hudayriat Island, south-west of the Abu Dhabi main island.
GHD said its multi-disciplinary team used its extensive expertise to overcome site challenges and deliver innovative and cost-effective solutions with high-quality finishes, in many instances acting as project management consultant, technical advisor, employer representative and engineer.
GHD worked on a number of areas of the development including Marsana, a leisure-focused food and beverage (F&B) destination that links to the development's other areas. On this key component, GHD said it worked with modular construction specialists and local suppliers to ensure that the project could be manufactured off-site and then delivered to the site in packages, thereby meeting Modon's quality requirements and programme constraints.
The 321Sports and Circuit X are considered a significant contribution to the leisure and entertainment experience in Abu Dhabi as they provide residents and guests the opportunity to get active, stay fit and enjoy new experiences.
OCR Park is an endurance and challenge-based obstacle course race park, while Bike Park features tracks for biking, walking, and jogging.The Hudayriyat Island Heritage Trail, which showcases the UAE's heritage and archaeological potentials, is a historical landscape and public realm project that builds on existing archeological assets for an educational and recreational experience.
Other areas include Bab Al Nojoum – translated as The Door to Stars – a campsite where visitors can enjoy the nearby amenities and activities.