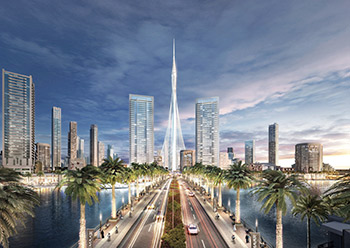 Dubai Creek Harbour Tower ... work suspended.
Leading Dubai developer Emaar Properties has halted new construction work after a construction boom in recent years led to oversupply in the Gulf city, reported Reuters, citing its founder.
"We as a group have stopped supply," stated Mohamed Alabbar, while speaking at a UAE-Israel conference in Dubai, adding that demand was improving but the market remained oversupplied.
It was not immediately clear when Emaar, which counts Dubai's state fund as a major shareholder, had ceased new building work, although sources had told Reuters in April that Emaar had suspended work on major new projects at Dubai Creek Harbour, a new development touted as offering homes to 200,000 people. That included suspending work on the Dubai Creek Harbour Tower, billed to be higher than Dubai's Burj Khalifa, which is now the world's tallest building.
Alabbar did not say when the firm would resume construction projects.
In August, TradeArabia had reported that Emaar's net profit for the first six months plunged 35 per cent to Dh2.007 billion ($546 million) from Dh3.1 billion ($843 million) last year.
Its revenue too fell 22 per cent for the six-month period from Dh11.6 billion to Dh9.032 billion.
In addition, S&P Global Ratings had recently downgraded the ratings of Emaar and its retail subsidiary Emaar Malls along with another major Dubai-based real estate development company DIFC Investments on increased economic pressures stemming from the spread of Covid-19 pandemic.