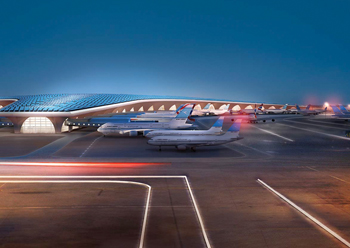 An artist's impression of the new terminal at Kuwait International Airport.
Work is moving at a steady pace on the new terminal building (T2) at Kuwait International Airport despite the Covid situation with nearly 40 per cent of the project already completed, reported Arab Times, citing a senior official.
Limak Construction, a part of leading Turkish conglomerate Limak Group, is the main contractor on the terminal project, which was designed by Foster + Partner. Structural engineering of the main structure was carried out by Werner Sobek.
On completion, the T2 project will be one of the most advanced and environmentally conscious airports in the world and an iconic gateway to Kuwait.
"The project has not been affected by the reduction in the state's general budget, since a total amount of KD400 million ($1.3 billion) had been allocated for the project for fiscal 2021/2022," stated Engineer Abdul Mohsen Khaled Al Anzi, the Assistant Undersecretary for the Major Projects Engineering Sector at the Ministry of Public Works.
"Since it is the gateway to realising Kuwait's Vision 2035, all sectors of the ministry, including the engineering section, has prepared the five-year term plan until 2025 which includes the estimated cost to cover the expenses of these projects," explained Al Anzi. "These plans were discussed by the Ministry's Planning Committee, and of course among them is the passenger building project at the Kuwait International Airport as one of the major development projects implemented by the Ministry of Public Works."
Earlier last month, Kuwait's Central Agency for Public Tenders (CAPT) had floated tenders for the construction and maintenance of the parking lots and aircraft runways and service buildings at the new passenger terminal within Phase Three of the Kuwait International Airport project.
Covering a 1.3-million-sq-m area, the project is located between the eastern and western runways and extends from the new passenger Terminal 2 and consists of aircraft parking and runway linked to the existing runways of Terminal 2, air services and service tunnels associated with the main building in addition to a power plant.
Once completed, the project will include service buildings that contain waste management facilities, facilities for storing goods, facilities for the Ministry of Interior, Customs Control, an area for lost luggage, an underground water tank and passenger escalators, said the report.
Work began in August on Phase Two of the car-parking building as part of the ministry's new passenger building project at Terminal 2. The three phases of the project are to be completed simultaneously, it added.