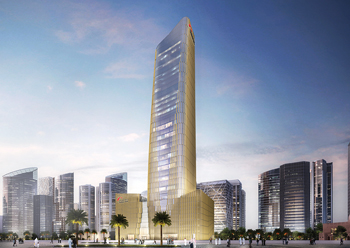 Boubyan Bank HQ ... 75,000 sq m of built-up space.
Work has started on the new Boubyan Bank headquarters in Kuwait, according to SSH, a key masterplanning, infrastructure and project management company in the Middle East.
A leading player in the building design and construction supervision sectors in the Middle East, SSH delivered design services for the landmark project in association with Perkins Eastman.
Once complete, the headquarters building will offer Boubyan Bank the opportunity to utilise technology in banking, real estate and investments, while benefitting from spacious offices, convention halls and other large public spaces, said senior SSH officials at the ground-breaking ceremony.
The ceremony was attended by senior Boubyan Bank board representatives including Chairman Abdulaziz Abdullah Al Shaya, Vice Chairman and CEO Adel Abdul Wahab Al Majed and board members Fahad Ahmad Al Fouzan, Waleed Ibrahim Al Asfour, and Waleed Abdullah Al Houti as well as Kuwait-based SSH officials Khalil Alonaizi, Resident Director (Kuwait) and Nick Forbess (Head of Project Management) along with Sameer Abu Shanab of Projacs.
Speaking at the ceremony, Alonaizi said: "We are absolutely delighted to have been part of the journey thus far and, even more so, to have shared this special occasion with our client, Boubyan National Real Estate Service Company."
"We are looking forward to watching this landmark develop, covering its built-up area of more than 75,000 sq m," he added.