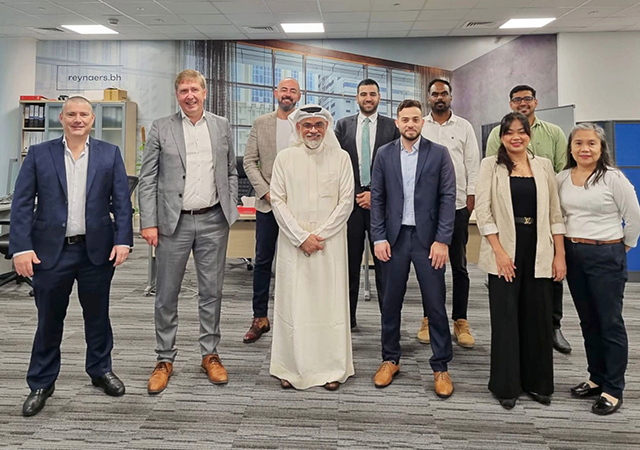 Geerinckx (second from left) and Khalaf (third left) at the RME headquarters in Bahrain.
Reynaers Middle East (RME), the Bahrain-based regional office of leading European aluminium solutions provider Reynaers Aluminium, recently received Bert Geerinckx, the newly appointed Group CEO of Reynaers Aluminium, at its headquarters in Bahrain.
Welcoming Geerinckx was Ali Khalaf, Managing Director of RME, who congratulated him on the new appointment, and wished him success in his future tasks as the new Group CEO.
During the visit, Geerinckx was briefed about the company's operations, activities and projects across the Middle East, one of Reynaers Aluminium's key target markets, which has been witnessing rapid and significant growth.
Furthermore, the Group CEO also engaged in insightful discussions with RME team members in Bahrain and Dubai on the business strategies of the group, which is present in more than 70 countries around the world, as well as the evolving market landscape.
Khalaf said: "We are delighted to welcome Bert Geerinckx, the newly appointed Group CEO of Reynaers Aluminium, to the Kingdom of Bahrain. This visit carries great significance for us as the Bahrain-based regional office of Reynaers Aluminium. Geerinckx's presence here underscores the strong commitment of Reynaers Aluminium to the Middle East region, and specifically to the Kingdom of Bahrain."
He continued: "As a leading European provider of aluminium solutions, Reynaers Aluminium has been at the forefront of innovation and excellence in the industry. We are confident that Geerinckx's extensive experience and expertise will further strengthen our operations and drive our growth in the region, as his visit provides us with an excellent opportunity to exchange insights, discuss strategic initiatives, and explore new avenues for collaboration.
"RME is proud to be a trusted partner in delivering state-of-the-art aluminium solutions to the architectural and construction sectors in Bahrain and across the Middle East. We remain committed to providing our clients with the highest quality products and unmatched service."
Geerinckx commented: "As our regional office, RME has been playing a pivotal role in establishing strong relationships with local partners and clients, and delivering exceptional products and services across the region. We are proud of the projects we have been involved in, which have helped shape skylines and redefine architectural possibilities. Our focus will remain on fostering innovation, maintaining the highest quality standards, and meeting the evolving needs of our clients."
"Reynaers Aluminium is dedicated to being a reliable and trusted partner in the Middle East's construction industry and we will continue to invest in the region, expand our product offerings, and provide exceptional support to our customers. I am confident that together with our talented team at Reynaers Middle East, we will further strengthen our position as a leader in aluminium solutions, contributing to the region's architectural landscape and sustainable development," he added.
Reynaers Aluminium specialises in the development and marketing of innovative and sustainable aluminium solutions. Reynaers Middle East is headquartered in Bahrain and caters to the entire GCC region in addition to Lebanon, Egypt, Jordan and Iraq. With a rich portfolio of leading projects across the region, RME aspires to further advance its leading position as one of the leading aluminium solutions providers in the Middle East region.