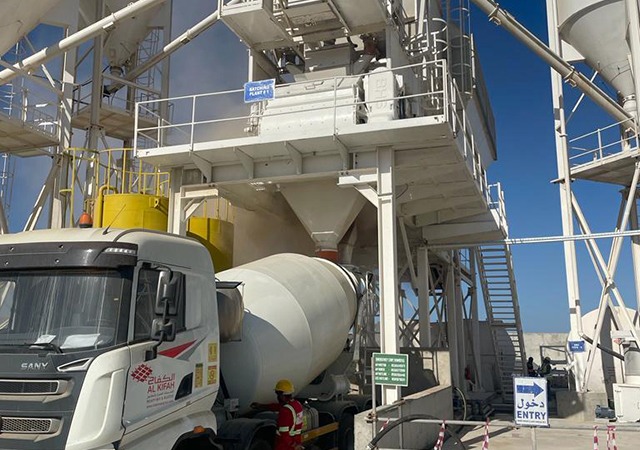 The new batching plant set for production.
Saudi Arabian readymix and blocks provider Al Kifah Ready-Mix & Blocks (KRB) has successfully installed two concrete batching plants at the $500-billion Neom city in the northwest of the country.
The environment-friendly plants, which were installed in August, are located at Duba and will serve the Neom Green Hydrogen Element (NGHE) project, according to a KRB spokesman.
The batching plants - which are equipped with two high-capacity ice makers and two high-efficiency water chillers for hot weather concreting - have a total capacity of 220 cu m per hour.
Al Kifah's batch plants produce all types of readymix concrete, including green concrete mixes (ConGreen). High-performance supplementary cementitious materials (SCMs), such as fly ash and silica fume, are being used in the green concrete mixes at the NGHE project for various customers.
ConGreen, KRB's green concrete solution, is made with local raw materials and incorporates carbon dioxide in the mixing process, utilising CarbonCure technology, and natural pozzolans to reduce cement content.
"We are currently using a Neom-approved mix design in the Neom Green Hydrogen Project," the spokesman says.
Readymix concrete is now being supplied to the project following the completion of testing of the trial mixes, which exceeded the high specifications set for the project, he points out.
To ensure that its products meet the highest standards expected at the project, Al Kifah's team at the NGHE project has stringent quality and environmental standards in place to cover the entire production and delivery procedures.
Quality control and assurance (QC/QA) covers all three phases - batch plant/transmixers inspection, on-plant testing and on-site testing – to ensure the high quality of every single cu m produced by Al Kifah batch plants in Duba, the spokesman stresses.
He elaborates: "As per international standards, daily/weekly/monthly testing of raw materials and concrete products is conducted in addition to inspection of the sources to make sure of the consistency of raw material used in our projects.
"The batch plant and transmixers are inspected before concrete production and loading, by the batch plant inspector. During production, the concrete is checked and tested at the checkpoint of the batch plant by our components QC technicians. When the concrete transmixer arrives at the site, onsite QC technicians conduct several tests to make sure the concrete delivered meets the customer requirements."
KRB, which is certified to ISO 14001:2015 standards, also meets high environmental standards at its batching plants, the spokesman says.
"Sustainability is a core value at KRB, and we constantly strive for environmental excellence," he remarks.
"To earn the certification, our environment management system (EMS) at each location had to comply with all the elements of the standard. Effective environmental management systems are critical in helping our operations meet and exceed our environmental and sustainability goals," he says.
"KRB's Environmental Policy serves as an example of environmental stewardship, and is continuously reviewed to stay ahead in planning, operational controls, performance evaluation and management. By following ISO 14001:2015 standards, our operations can continue to build on their successes while serving as an example for others to follow across the kingdom," the spokesman adds.
In line with its EMS, Al Kifah has a series of procedures in place for waste management, risk aspect assessment, legal compliance, assurance, emergency preparedness and response and emergency preparedness and emergency response plans.
KRB is keenly eyeing the prospects of installing further such plants in Neom, given the interest it has received from contractors at the futuristic city. "We have received many inquiries for different projects in Neom," the spokesman says.