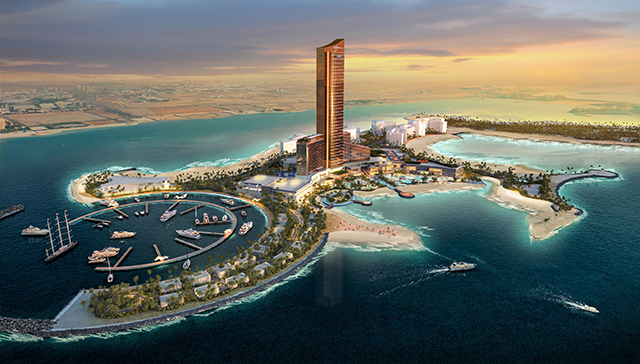 The design of Wynn Resorts's beachfront resort is inspired by the tranquil seascape of Al Marjan Island.
Construction work has been launched on the $3.9-billion Wynn Al Marjan Island in Ras Al Khaimah, following the appointment of contractors to undertake the enabling and piling works and the construction of the resort.
The largest project of its kind in Ras Al Khaimah's growing hospitality sector, the 5.6-million-sq ft integrated resort development on Al Marjan Island is being developed by a partnership of RAK Hospitality Holding, Marjan, the masterdeveloper of freehold property in Ras Al Khaimah, and Wynn Resorts, a US-listed developer and operator of luxury integrated resort experiences.
The project marks the debut of Wynn Resorts in the Middle East and will host the first gaming area in the Gulf region.
Scheduled to open in early 2027, Wynn Al Marjan Island will feature a luxury hotel with 1,500 rooms, suites, and villas. It will also comprise a state-of-the-art events centre, a gaming area, a theatre hosting a unique production show, a range of exclusive dining, spa and wellness experiences, a high-end shopping esplanade and other amenities.
In March this year, the developers appointed UAE-based Alec Engineering and Contracting – part of the Investment Corporation of Dubai (ICD) – and German foundation specialist Bauer International to undertake integral construction works of the Wynn Resort. As per the deal, Alec will be responsible for the construction of the resort development, while Bauer will undertake the piling and enabling works.
Setting global standards in design and premium luxury experiences, Wynn Resorts' upcoming resort on Al Marjan Island in Ras Al Khaimah is inspired by dramatic views of the Arabian Gulf
The design vision for Wynn Resorts's first-ever beachfront resort is inspired by the tranquil seascape of Al Marjan Island, a group of four islands. Set in a pristine location overlooking the azure waters of the Arabian Gulf, the iconic silhouette of Wynn Al Marjan Island rises more than 305 m above the sea, and will feature a serene and stylish setting that takes inspiration from the stunning sea views.
The brand's signature, high-design opulence will be reflected in its 1,500 lavishly styled rooms, suites and villas. Designed for both longer visits and day trips from neighbouring emirates, the resort will offer abundant and layered experiences including nightly state-of-the-art laser and light shows.
The design of Wynn Al Marjan Island takes its inspiration both from the natural landscape surrounding the resort and the leading design aesthetic of Wynn Resorts. The same geometric configuration of the curved shape of the beach on the island is echoed through the podium structure, similar to a great opera house, creating majestic views of the beach, sea and the horizon.
Al Marjan Island, a flagship development of Marjan, boasts over 7.8 km of sparkling beaches and 23 km of waterfront.