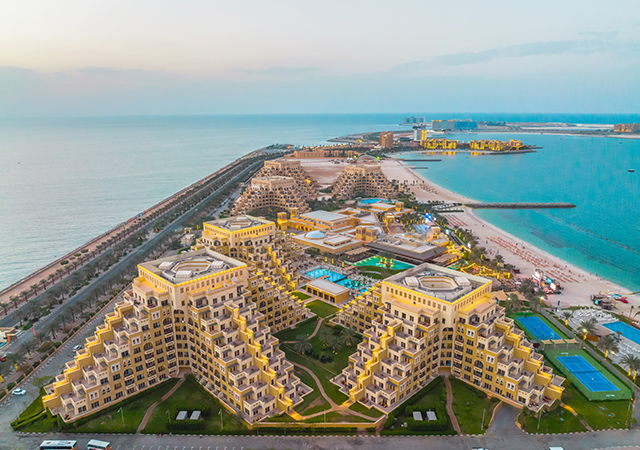 Al Marjan Island, already home to the Rixos Bab Al Bahr, will soon host the Wynn Al Marjan Island.
Ras Al Khaimah, once a low-key emirate, has transformed into a real estate powerhouse taking centre stage in the Northern Emirates, with a series of world-class hotels, resorts, and luxury homes.
The star attraction, undoubtedly, is the announcement of the $3.9-billion Wynn Al Marjan Island integrated resort, which seems to have catalysed a real estate bonanza in the emirate as local and regional developers and international hotel operators make a bee line to share in the prospects that Ras Al Khaimah promises.
The emirate last month also received the thumbs up from S&P Global Ratings, which has revised its outlook on Ras Al Khaimah to positive from stable. At the same time, it affirmed its 'A-/A-2' long- and short-term foreign and local currency sovereign credit ratings on the Northern Emirate.
"In our view, several ongoing tourism and other infrastructure projects, including the $3.9 billion Wynn Al Marjan Island integrated resort, could strengthen Ras Al Khaimah's growth prospects and income levels over the next two to three years. Meanwhile, we forecast that Ras Al Khaimah's continued fiscal surpluses will support a government net asset position of around 13 per cent of GDP by 2026," said the leading credit rating agency in its report released last month.
"The positive outlook reflects our view that Ras Al Khaimah's economy could grow beyond our current expectations on the back of planned construction projects in the emirate and the spillover effects on Ras Al Khaimah's mining sector from investment spending in the United Arab Emirates, the rest of the Gulf Cooperation Council (GCC), and the Indian sub-continent," it added.
Elsewhere in the Northern Emirates too, the primary focus seems to be on real estate development. Sharjah registered a 14.6 per cent increase in transactions compared to the same period last year, according to the report issued by Sharjah Real Estate Registration Department. The value of real east transactions in the emirate during the past nine months amounted to more than AED19 billion ($5.17 billion), with 59,258 transactions. Among the leading Sharjah developers is Arada, which is spearheading two big-ticket mixed-use projects – the AED24 billion mega mixed-use community Aljada and the AED9.5-billion Masaar.
Sharjah Investment and Development Authority (Shurooq) is working on three multi-billion-dirham developments – Sharjah Sustainable City, Maryam Island, and Khorfakkan Residences – as well as a number of tourism developments.
Meanwhile, the recently launched Etihad Rail now connects the Northern Emirates to the more affluent emirates of Abu Dhabi, Dubai, and links the Saudi border. Currently a freight line that extends 145 km from Sharjah to Fujairah port, passing through Ras Al Khaimah, the UAE's national rail network looks set to provide a major impetus to industrial, mining and trade activities in these emirates.
Hospitality projects
Among the most transformative projects announced in the Northern Emirates is the Wynn Resort, which is expected to have a major impact on Ras Al Khaimah's economy, tourism, and culture.
The integrated resort development on Al Marjan Island is the largest project of its kind in Ras Al Khaimah's growing hospitality sector. It is being developed by a partnership of RAK Hospitality Holding and Marjan, the masterdeveloper of freehold property in Ras Al Khaimah, with Wynn Resorts, the US-based developer, designer and operator of luxury integrated resort experiences (see Page 28).
The development, in turn, has enticed other regional developers to embark on projects in Ras Al Khaimah. Among them, Dubai Investments, a leading investment company listed on the Dubai Financial Market (DFM), is spearheading the development of Danah Bay, a AED1-billion freehold project located at the heart of the Al Marjan Island. The project is being developed through its wholly-owned real estate subsidiary Dubai Investments Real Estate (DIR).
A premium beach community project coming up on a 90,000-sq-m area, Danah Bay features 188 villas and a residential tower that includes 107 apartments. The project boasts 40,000 sq m of beaches.
Having already sold the first phase of the development, Dubai Investments has plans to launch Phase Two, which comprises four-, five- and five-plus-bedroom villas in addition to two-bedroom townhouses. Phase Three will include a 300-key upscale hotel – a Grand Millenium Resort with 300 rooms and specialty dining options as well as beach recreational facilities – and residential apartments. The hotel is expected to see completion in Q1 2026. DIR has appointed AE Seven Morse Architecture & Engineering Consultancies Company as the consultant for design and supervision of the project.
Ras Al Khaimah's tourism appeal has also drawn in leading operators such as Nikki Beach Global, an award-winning luxury lifestyle resort, residences and beach club operator, which has joined hands with two UAE-based developers to bring its branded resort and residences to Ras Al Khaimah.
Under the first agreement, it has tied up with RAK Properties, Ras Al Khaimah's leading property developer, to develop the Nikki Beach Resort & Spa Ras Al Khaimah in the Mina Al Arab development.
The resort, being designed by global architecture, design, and planning firm Gensler, will bring Nikki Beach's Celebration of Life atmosphere to the luxury lifestyle destination. Guests will have a vast array of rooms and villas to choose from in the 155-key resort, as well as access to the brand's signature Nikki Spa, Tone Gym, and restaurant concepts.
The second partnership signed by Nikki Beach Global is with Aldar Properties for the development of three branded residential buildings as part of a larger beachfront community on Al Marjan Island.
Real Estate
Marking Aldar's inaugural residential development in Ras Al Khaimah, Nikki Beach Residences will be nestled between Rixos Bab Al Bahr and DoubleTree by Hilton Resort & Spa Marjan Island, both acquired by Aldar in 2022.
Also set to take shape at Al Marjan Island is an upscale AED1.5-billion twin-tower project – Oceano – by UAE-based Luxe Developers. The key waterfront development comprises 206 residential units on 18 storeys and will include one- to four-bedroom apartments as well as six penthouses and two exclusive sky villas with private pools. Oceano will be located on a unique corner plot on Al Marjan Island and offer a built-up area of 79,000 sq m.
Among the newly launched projects in Ras Al Khaimah that have met with outstanding success is Cape Hayat, where its developer RAK Properties announced the sell-out of the first phase on the first day of the launch. The project, which is at the off-plan phase, is located on Hayat Island in Mina Al Arab.
Cape Hayat comprises 668 luxury residential apartments with direct access to the beach and views across the Arabian Gulf and Hajar Mountains. Spanning 22,854 sq m, Cape Hayat features four residential towers – two rising to 20 storeys and the other two comprising nine storeys.
Another project being developed by RAK Properties at Hayat Island is Bay Residences. The development will feature 648 residences in four towers (see Page 30).
Meanwhile, in Sharjah, the AED24-billion mega mixed-use community Aljada continues to grow with a new district having been unveiled over the past year. Its developer Arada has recently awarded a AED395-million contract to Gulf Asia Contracting Company (GAC) for the construction of Nasaq District, a cluster of six upscale apartment buildings within Aljada, which – covering a 24-million-sq-ft area – is Sharjah's largest ever project.
Nasaq District will boast 649 one- to three-bedroom apartments with access both to Aljada's tree-lined East Boulevard that brings a wide variety of shopping and dining experiences, as well as the community's urban linear park.
Dubai-based GAC is already working elsewhere at the Aljada jobsite, after winning a AED475 million contract in January to build the Vida Aljada hotel complex that comprises four premium buildings.
As per the AED475-million deal, the contractor is responsible for the construction of the 175-room Vida Aljada hotel, as well as 255 branded residences and 149 branded serviced apartments.
Owned and developed by Arada and operated by Vida Hotels & Resorts, the Vida Aljada is the first of three Emaar Hospitality properties that will be built at Aljada, which also include The Address Aljada and Rove Aljada.
Arada, in partnership with Rove Hotels – a joint venture between Emirati developers Emaar Properties and Meraas – has also launched Rove Home Aljada, an exclusive collection of 117 high-end branded residences.
The developer has recently handed over 114 townhouses and semi-detached villas in the Sarab 2 garden villa community, raising the number of completed homes at Aljada to over 5,500.
Another key development by Arada is Masaar, a mega-residential woodland project in Al Suyoh district of New Sharjah. Valued at AED9.5 billion, the Masaar masterplan features 3,000 homes spread over seven gated districts, all of which are linked by a green spine featuring over 50,000 trees.
Construction is currently under way on 1,416 homes on Masaar's first three residential districts – Sendian, Kaya and Robinia – and the first homes are scheduled to be delivered later this year. The construction contract for the fourth, fifth and sixth phases, Azalea, Sarai and Sequoia, will be awarded in the coming months. The final phase of Masaar – the 597-unit Saro – was launched recently. All homes at Saro are scheduled to be completed in the second quarter of 2026.
Meanwhile, Sharjah Investment and Development Authority (Shurooq) continues to spearhead the development of Sharjah Sustainable City, a fully sustainable residential community, in partnership with Diamond Developers.
Work is in progress on Phase Three of the pioneering project in Sharjah, which comprises 324 villas.
Another major developer in Sharjah is Alef Group which has recently announced the commencement of construction for its AED3.5 billion Hayyan Development (see UAE Focus, Page 68).
The ambitious development, which spans 8.7 million sq ft, will encompass 1,882 villas, townhouses and mansions.
Alef Group has also begun construction of Al Mamsha Seerah, situated in Zone 2 of Al Mamsha Sharjah, which spreads over an area of 3 million sq ft and is positioned as Sharjah's first fully walkable community. Al Mamsha Seerah comprises three residential complexes with a total of 1,586 apartment units in 10 buildings.
While there have been no major new project announcements from the other Northern Emirates, Al Zorah Development Company – a joint venture between the Government of Ajman and Solidere International and master developer of Al Zorah City – continues to push ahead with the development of Al Zorah City, where it has recently launched two luxury developments – 'Beach Hills Villas' and Seaside Hills Residence.
Beach Hills Villas features four rows of four-bedroom units that offer beachside living adjacent to the iconic Oberoi Beach Resort; while the beachfront project Seaside Hills Residence comprises three interconnected buildings with a total of 90 residential units.
Other Projects
The region's first waste-to-hydrogen plant is being set up in Sharjah by Beeah Group, in partnership with UK's Chinook Sciences and Japan's Air Water. Combining Beeah's expertise in waste management and material recovery, Chinook Sciences patented Rodecs pyrolysis and gasification process, and Air Water's Hydrogen Refinement technology, the waste-to-hydrogen plant in Sharjah will transform waste wood and plastic into fuel-cell grade green hydrogen. Plans for the waste-to-hydrogen plant include an on-site green hydrogen dispensing station capable of fuelling several vehicles.
Sharjah Electricity, Water and Gas Authority (Sewa) has recently invited request for proposals (RFP) for the 90-million-gallons-per-day Hamriyah independent water project (IWP) from the eight prequalified bidders. The project is expected to be commissioned by Q3 2026. Sewa, meanwhile, launched commercial operations last month at all the three blocks at the Hamriyah Independent Power Plant (IPP).