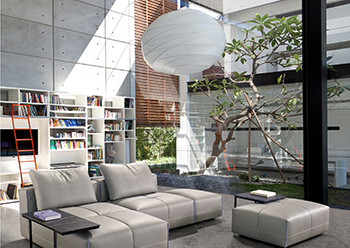 Puzzle Sofa ... offered in the UAE.
Dubai-based Western Furniture has unveiled the new Puzzle Sofa from Italy's Gamma Arredamenti International in the UAE market.
Part of the company's Dandy Home Collection, the new modular leather sofa – as the name says – is made up of various "jigsaw pieces" that can be freely combined based on the customer's preferences.
"An endless number of possible configurations will adapt to various situations: Puzzle will be an ideal solution not only for the complex shape-shifting requirements of contract work and the hotel industry, but also for ordinary linear or corner compositions in residential projects," says a spokesman for Western Furniture
Crafted from premium materials, the invitingly generous seats deliver the utmost comfort, thanks to the use of various layers of polyurethane on the seat unit and a soft down fill inside the various kinds of cushions and backrests, the spokesman states.
Tufted topstitching and leather details in the centre of the seat and down the sides demonstrate Gamma's masterful craftsmanship, he adds.
"Leather sofas by Gamma are characterised by their fine workmanship, ingenuity, and dedication to innovation. The company's furniture products stand out as they are versatile, comfortable, and perfect, thanks to its innovative solutions and ideas.
"Gamma expresses attention to beauty, functionality and comfort at all levels: an international style marked by luxury and exclusivity," he concludes.
Western Furniture, founded in 1992, is a well-established leading retailer of medium- to high-quality furniture in the region and is a member of the Arenco Group of Companies. It offers a wide selection of bedroom sets, living room furniture, dining room sets, occasional tables, sofa sets, entertainment centres, and decorative accessories.