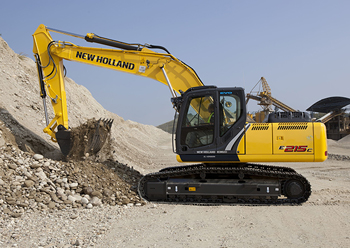 The E215C ... designed to offer exceptional all-round visibility.
New Holland Construction and its dealer in the UAE, United Al Saqer Heavy Equipment, are launching the first ranges of the brand's heavy line equipment in the Middle East region – the New Holland E215C excavators and V110D compactors – strengthening their offering in the market.
The outstanding configurations, features, quality, ease of use and durability of these machines will make them an asset for the region's construction operations, says the company which is part of CNH Industrial, a world-class equipment and services company.
The new machines are designed for tough applications such as quarrying, road works and earthworks, as well as general construction jobs.
With the New Holland B80B backhoe loader already making its mark in this region, the E215C excavators and V110D compactors are now making their debut on the Middle East markets.
The E215C, which is powered by a 118 kW (160 hp) engine, has a maximum operating weight of 23,160 kg and a bucket capacity of between 0.52 to 1.31 cu m.
"The New Holland E215C excavator features a fuel-efficient FPT engine and a new cab design that provides a comfortable and safe environment with exceptional all-round visibility. The remarkably low vibration and ergonomically designed seat with eight different adjustments offer superior operator comfort and safety on long workdays," says a spokesman for New Holland.
The six-cylinder, electronic fuel injection engine delivers a highly fuel-efficient performance. The high power reserve reduces transient times, making the hydraulic system immediately reactive to any load. It also comes with built-in serviceability, reliability and smooth control, resulting in higher productivity and maximum uptime.
The New Holland V110D compactor features a well-proven compaction technology. It is produced to high manufacturing quality standards and is designed for reliability, durability and serviceability. With its powerful and versatile performance, it is perfect for multiple applications, the spokesman says.